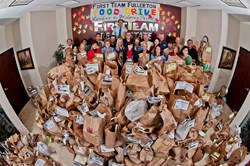 "Giving is always the best reason to celebrate a holiday and this effort is absolutely worth it," said Greg Carrescia, Fullerton Office Manager, First Team Real Estate
Irvine, CA (PRWEB) November 08, 2013
Each year at this time, as businesses prepare for the busy holiday season, First Team Real Estate offices across Northern Orange County and Southeastern Los Angeles County prepare to wipe out hunger for the holidays on an incredible scale.
"Each year we grow little by little, and this year we will be distributing over 10,000 bags donated by the manager of the Fullerton Ralph's Market on Harbor Blvd, to homeowners from Yorba Linda to Orange to Cerritos, Whittier to West Covina," said Greg Carrescia, Office Manager of the First Team Real Estate Fullerton office. "Giving is always the best reason to celebrate a holiday and this effort is absolutely worth it."
With over 600,000 residents in Orange County living at risk of missing their next meal, First Team's agents have led an effort for years that has collected tens of thousands of pounds of food.
"Last year, the agents operating in North Orange County collected so much food that it overwhelmed some of their charity partners," said Rick Brotherton, Vice-President, Marketing for First Team Real Estate. "So, like the great business people they are, the First Team agents banded together and identified more organizations to partner with and continued to expand their efforts."
Bags are being distributed door-to-door by local First Team agents in the neighborhoods they serve almost everyday. Each of the over 10,000 Ralph's Market bags, comes with easy to follow instructions on the bag, a link to follow for YouTube instructions, and a date to leave the bag on the curb in front of their home. Homeowners just need to fill up the bag with food and leave it on the curb on the date on the bag and a First Team agent will do the rest.
"People can help insure that a needy family has enough to eat this holiday season and they can do it without walking five steps out of their own home," explained Rick Brotherton. "We are very proud of the work and initiative First Team agents have shown in putting this program together and we look forward to seeing the incredible support they likely will get from the community."
To learn more about the program, you can watch the YouTube video at http://ow.ly/qnexl or to drop off food or other donations, feel free to contact First Team Real Estate's Fullerton's office at (714) 278-0808.
ABOUT FIRST TEAM REAL ESTATE
Growing from a single office in Huntington Beach, CA in 1976, First Team Real Estate is now Southern California's largest and most trusted private real estate agency with offices across California. In 2011, 2012, and 2013 First Team was recognized as Best Real Estate Company by the annual Orange County Register survey of 100,000 Southern California households. We can be reached at (888) 236-1943.