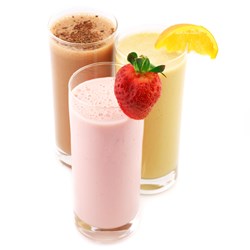 White Marsh, Md. (PRWEB) November 11, 2013
TIC Gums releases a sensory white paper titled "Technically Speaking: Targeting Texture for Instant Protein Beverages" at SupplySide West Expo, booth #22070 in Las Vegas, Nev., November 14-15, 2013.
As health and wellness trends continue to penetrate the instant beverage category, product developers must find ways to maximize nutritional value without negatively impacting sensory attributes. This can be challenging due to the increased amount of perceivable particulates added when formulating with vitamin-mineral blends, protein, fiber, and other nutritional ingredients.
In "Technically Speaking: Targeting Texture for Instant Protein Beverages", sensory attributes are evaluated in a chocolate instant protein beverage. An independent research facility conducted sensory testing on a control sample using no hydrocolloids, a single ingredient solution, and Ticaloid® Ultrasmooth, a cold water soluble hydrocolloid system designed to enhance texture in instant protein beverages.
"The Texture Revolution® was utilized when creating the instant protein beverage by first evaluating all of the textural attributes in the base product and then selecting those attributes we wanted to adjust," said Karen Constanza, M.S., Food Technologist for TIC Gums. "After identifying the specific texture issues in the base product, it became a more streamlined process to addressing those characteristics using a complimentary hydrocolloid system. When our three samples were evaluated by an independent research facility, five different textural attributes were determined to be distinguishing and differential."
Stop by booth #22070 and let our Gum Gurus® demonstrate the textural benefits of Ticaloid® Ultrasmooth in an instant protein beverage and learn more about the sensory results in the "Technically Speaking: Targeting Texture for Instant Protein Beverages" white paper. If you would like a copy, please visit our booth at SupplySide West or visit http://www.ticgums.com/instant-protein-bev.
###
About TIC Gums: TIC Gums is a global leader in advanced texture and stabilization solutions for the food industry. Food and beverage companies rely on TIC Gums to improve the texture, stability, consistency, nutritional profile, and shelf appeal of their products. Legendary customer service, high quality standards, and the unrivaled knowledge of our Gum Gurus® have made TIC Gums the industry leader for more than 100 years.
If you would like more information about TIC Gums, or to schedule an interview, contact Erica E. Elliott at (410) 273-7300 ext. 3467 or email eelliott(at)ticgums(dot)com.