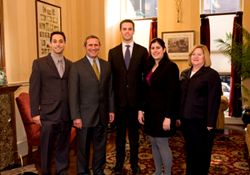 (PRWEB) November 12, 2013
Pozzuolo Rodden P.C., Philadelphia Estate Planning Attorneys, announce the release of "Why A Living Will Is A Mandatory Estate Planning Document". Below is a sample of the first couple of paragraphs. If you would like to read more, please read the full article and other business law, or estate planning topics at: http://www.pozzuolo.com
You may be healthy enough today to make your own medical decisions, but what happens if a car accident leaves in a coma or you suffer a stroke that leaves you in a vegetative state? Who will make the decisions for you if you cannot? Will this person make the same medical decisions as yourself? How will your family and friends feel if this person makes a decision they do not agree with? Having an estate planning attorney draft a living will for yourself will help provide certainty to these questions and help ensure your wishes are followed out. Even if you only have a simple will for a few assets, a Living Will is an important document to have an estate planning attorney draft as it is a simple step to ensure you are treated properly and to relieve your loved ones of making tough decision and the added anxiety.
What is a Living Will?
A Living Will is a document drafted by your estate planning attorney that sets forth your medical preferences upon incompetency. A living will goes into effect when, for example, two doctors declare you as incompetent to manage your own medical affairs, unconscious and terminally ill, or brain dead. It sets out certain advanced directives and declares a healthcare surrogate to make decisions on your behalf. This is essential to your estate plan to ensure you receive only the medical care you desire – no more and no less.
Advanced directives state your preferences for certain types of treatments. There is a misperception that living wills are only meant if you would like to "pull the plug" early. While many people will not desire to be kept alive on breathing and feeding tubes if unconscious and terminally ill, the advanced directives may provide instructions on whether or not to keep you alive as much as medically and financially possible. These advanced directives provide certainty of what your preferences would be when you cannot communicate them.
Your Living Will can also set forth a health care surrogate (and substitutes if the designated surrogate cannot serve) to make medical decisions on your behalf. This surrogate will make decisions that, as frequently the case, the advanced directives in the Living Will did not contemplate or decisions that were specifically vested in the surrogate to make depending on the circumstances. Thus, a Living Will is an important document that provides a level of certainty that your body will be cared properly if you become unconscious, brain dead, or mentally incompetent.
Specific Benefits of a Living Will
The point of estate planning is to document your wishes so they may be carried out when you physically and mentally cannot express them. A Living Will is as important as a will, if not more important in some case, as this documents your wishes while you are alive and how you should be treated. This makes sure you will not be kept in a painful vegetative state for 5 to 10 years because a relative cannot stomach pulling the plug or that the plug is not pulled too early if you want to be kept alive at the possibility of a future medical advancement that may save you. A Living Will is important to make sure your and only your wishes are followed for how you are treated.
If you would like to read more, please read the full article "Why A Living Will Is A Mandatory Estate Planning Document" and other estate planning and business law topics by clicking here.
Contact our Philadelphia Estate Planning and Business Law Firm with your questions, comments or concerns.
Pozzuolo Rodden, P.C. provides specialized cost-effective legal services to privately held business owners and high-net-worth clients in Pennsylvania and New Jersey in excess of 35 years.
Practice Areas: Business/Corporate Litigation | Business/Corporate Law | Real Estate | Employment Law | Estate Planning | Tax & Pension Law
Pozzuolo Rodden, P.C.
Counselors at Law
2033 Walnut Street
Philadelphia, PA 19103
215-977-8200
http://www.pozzuolo.com