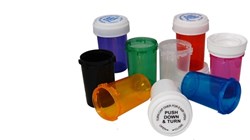 We have seen a significant increase in the amount of opaque child resistant vials ordered from Washington and Colorado dispensaries within the last couple weeks
(PRWEB) November 11, 2013
There is a scramble to buy child-resistant dispensary supplies throughout the U.S. Recent legislation in Washington and Colorado requiring that Marijuana sold in dispensaries be packaged in child safe containers is having an effect on the sale of dispensary supplies nationwide. With those two states passing recent initiatives to legalize recreational use, new mandates on childproof packaging passed in response to the new laws have affected the medical marijuana industry as well. Concerns over accidental ingestion of Marijuana by children has prompted the legislation, which mandates such child safety measures as reverse cap vials similar to what is seen on other potentially harmful over the counter medication.
"We have seen a significant increase in the amount of opaque child resistant vials ordered from Washington and Colorado dispensaries within the last couple weeks," a company representative for A&A Packaging said when asked about how the new laws are effecting orders of marijuana dispensary supplies. Although primarily in response to initiatives permitting recreational use of marijuana by adults, the regulations will affect the sale of marijuana that is intended for medical purposes as well.
Industry leaders and academics have taken a proactive stance when it comes to alleviating the concerns of the public regarding the sale of legalized marijuana. A recent report by the Colorado School of Public Health suggested opaque, child resistant packaging as the most simple and effective solution available to prevent accidental ingestion and child hospitalizations. The report used the example of accidental Aspirin ingestion cases and how a 45% drop in cases was observed once simple and effective measures were taken to make the packaging child resistant. Quick endorsement by medical marijuana industry leaders led to fast tracked legislation to regulate packaging.
The week that the state regulators incorporated the proposed restrictions, dispensary supply companies immediately noticed the difference. "The recent enforcement for child safe packaging in Colorado and Washington has caused our customers in those areas to buy out our stock of child resistant containers in black and white (opaque colors) causing us to increase our purchase quantities to ensure we are properly stocked on these items."
Suppliers nationwide are encountering difficulties as a result of the shifting landscape of legislation in the growing medical marijuana industry. As last count, 20 states have some medical marijuana laws and four more have pending legislation. Soon, more than half the states in the U.S. may have laws legalizing use for medical purposes. However, the recreational laws in Washington and California will continue to add visibility to the debate and have an effect on the way that dispensaries in 20+ states do business.
A&A Packaging is a California-based company that specializes in providing storage containers and products for customers and dispensaries of medical dispensaries. For more information on state complaint labeling and packaging, please contact A&A at (888) 315-2453. They can also be contacted by email at info(at)vialsondemand(dot)com or visit their website by at http://www.vialsondemand.com.