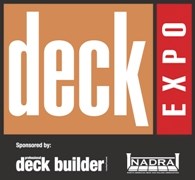 "If you want to be an industry leader and offer your customers the best products and expertise you have to continually educate yourself." -Steve Anthony
Austin, Texas (PRWEB) November 11, 2013
Last month Steve Anthony, owner of TimberTown Austin, made his way to the annual Deck Expo in Chicago, IL. The McCormick Place Convention Center was transformed into an all-out decking extravaganza. The three-day event was an opportunity for industry professionals from around the country to meet, participate in seminars and get a look at the latest technology and products.
For TimberTown Austin the Deck Expo was just one way they are staying on top of the trends and techniques that are new to deck building. Mr. Anthony said, "If you want to be an industry leader and offer your customers the best products and expertise you have to continually educate yourself. National events like these and workshops at our own location are ways that we are keeping ourselves informed."
Education was a key part of the Deck Expo. Throughout the event conferences, seminars and exhibits brought focus to a wide array of topics from business management to new deck equipment and building techniques. Exhibitors displayed woods, vinyls, hardware, paints and stains, gates, outdoor living and lighting products, railing systems and more. "It's important that we are aware of new products as they hit the market," said Mr. Anthony. "That's the only way we can ensure our customers are getting the best deck for their money."
One of the benefits of attending such an event is not just seeing the products but taking part in exhibitor-led instructional presentations and installation clinics. Attendees were able to get hands-on and see exactly how new products work from the people that created them. Mr. Anthony returned with newfound knowledge of products and building techniques that will help TimberTown Austin remain the premier decking supplier in central Texas.
To learn more about TimberTown Austin and all their latest deck products, please visit: http://www.timbertownaustin.com.
About TimberTown Austin
The experts behind TimberTown Austin have over 50 years of experience in supplying outdoor lumber for a wide variety of projects. Serving the Austin and the surrounding areas, TimberTown Austin has built a solid reputation as a reliable resource for softwood and hardwood lumber, composite decking, hardware deck accessories and more.