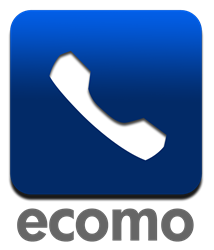 Mark Stewart, CEO, IMC Ltd said, 'We are delighted to launch ecomo® the new global Smartphone community forming the basis for the future of dynamic communication.'
London, United Kingdom (PRWEB UK) 21 November 2013
IMC are delighted to announce the launch of ecomo® for use with all Smartphone and Tablets that run the i-Phone® or the Android® operating systems.
IMC's CEO Mark Stewart said, "ecomo® is set to change the way we communicate for ever. ecomo® provides a global communications community for smartphone users to communicate via a dedicated cloud network."
All ecomo® community members can communicate with each other for free. Calls to non ecomo® users may be made at much reduced rates with savings of between 50 to 95% versus standard Mobile rates.
Mark Stewart continued, "ecomo® allows calls via wifi or 3G/4G connections or a local number giving customers every commercial and usage call option to make a calls or chat. ecomo® even works if there is no 3G signal or INTERNET access."
ecomo® uses your contacts list to identify all contacts and ecomo® contacts too. ecomo® users may be selected for free communication.
To use ecomo®, simply sign up at http://www.ecomo.me via the sign up tab and follow the secure sign up process.
General Note
ecomo® works via the wifi/3G calling button in over 200 countries and via the 'Local Number' button in over 50 countries. Each country has a different Mobile market. Whatever your local Mobile market ecomo® allows you to choose how you call via wifi or 3G/4G or a local number so that you can enjoy ecomo® high quality low cost calls in the most convenient and cost effective manner possible.
For further information please email:
info(at)ecomo(dot)me