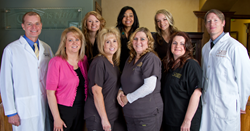 Everyone who enters will also be given $1,000 off AND a $300 holiday shopping card.
Salt Lake City, UT (PRWEB) November 10, 2013
One lucky person will win LASIK this holiday season at Davis Vision Eye Center in South Jordan Utah. People are urged to submit entries at http://www.davisvisioncontest.com. This is a great opportunity to get LASIK at no cost.
The winner will receive LASIK treatment with the most advanced technology in the world. The VISX STAR S4 with iris registration is used to correct the eye and is so advanced it shares technology with the Hubble space telescope. In addition, the lucky winner will also experience blade free intralase for creating the flap prior to using the VISX STAR S4. This combination of technology gives patients the best chance of achieving optimal vision and is truly a blade-free all laser process.
"We feel very fortunate to give our patients the gift of better vision on a daily basis. We felt this giveaway would be a perfect holiday gift from us to the community and with it we say thank you." - Dr. Davis
Everyone who enters will also be given $1,000 off and a $300 holiday shopping card so patients are urged to enter and take advantage of a great deal on LASIK even if they don't win. The winner must be a candidate for surgery as determined by Dr. Davis and must have surgery by March 31, 2014.
This promotion is being advertised on SLC TV station Fox 13 and online in various places. People are urged to share this information with their friends and family so they too have a chance to win.
Dr. Davis has completed more than 27,000 corrective eye surgeries and is one of the most experienced ophthalmologists in Utah. A native of Salt Lake City, Dr. Davis attended University of Utah for his undergraduate degree and then continued on to St. Louis, Missouri for Medical School. He completed an ophthalmology residency at University of California, San Diego and was one of the first eye surgeons in Utah to perform laser refractive surgery in 1996.
Visit Davisvisionmd.com or call 801-253-3080 for more information.