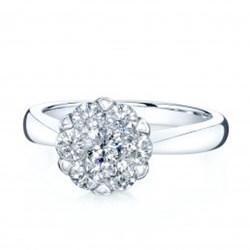 Los Angeles, CA (PRWEB) November 09, 2013
Coronet Solitaire is excited to announce its expansion into nine Rogers Jewelry Co. stores. Coronet's exquisite designs will be offered in a number of Rogers Jewelry Co. locations in Bakersfield, Elk Grove, Folsom, Roseville, Fresno (2 locations), Modesto, Reno, and Visalia. This new venture is sure to create a positive impact on loyal Coronet Solitaire customers and attract many new customers to their designs.
Rogers' customers are going to notice Coronet's truly unique and revolutionary designs. With 7 round brilliant diamonds set with no prongs and elevated center stone, Coronet Solitaire pieces radiate modern elegance. Crafted to consist of at least 399 facets, Coronet's pieces are created to outshine any other diamond jewelry. Offering Rogers Jewelry customers Coronet's one of a kind and brilliant jewelry collection is sure to please the masses.
About Coronet Solitaire:
Coronet Solitaire is an exclusive line of diamond jewelry that carries a patent-protected tiered setting: six diamonds surrounding one elevated center stone without the use of any prongs. The allure of this innovative design is the perfect diamond luminosity that it creates, relatively unrivaled by any other jewelry brand. 399 facets in a Coronet piece compared to 57 facets in a single round stone allow interplay of brilliance and light that outshines any diamond jewelry minus the unattainable price tag. Coronet Solitaire makes it possible to transform fine jewelry into an easily accessible commodity. Follow Coronet Solitaire on Facebook, Instagram and Twitter.
About Rogers Jewelry Co.:
Just like a diamond takes time to reach its full potential, so does the jewelry store that displays it. At Rogers Jewelry, they've been specializing in the finest quality diamonds and jewelry since 1937. They're proud to celebrate more than 75 years in business. After all this time, they've learned exactly what customers want-better brands, better service and better selection, including the area's largest collection of engagement and wedding rings. We have opened eight Superstores: Folsom, Elk Grove, Bakersfield, Visalia, Modesto, Roseville, and Fresno, California and Reno, Nevada.