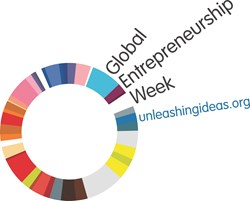 KANSAS CITY, Mo. (PRWEB) November 11, 2013
Now in its sixth year, Global Entrepreneurship Week (GEW) will be celebrated Nov. 18-24 in 139 countries and thousands of cities around the world. One of the largest lineups of GEW events is in Kansas City, the hometown of the Ewing Marion Kauffman Foundation, which launched GEW in 2008. The Kauffman Foundation will provide a live video stream of the following GEW events at https://new.livestream.com/kauffmanfoundation.
Get in the Ring: The American Startup Clash
Monday, Nov. 18 – 8-10 p.m. ET
The signature event of Global Entrepreneurship Week in Kansas City, the Kauffman Foundation brings the international competition Get in the Ring to the United States for the first time. In the final round of "Get in the Ring: The American Startup Clash," eight of America's most outstanding entrepreneurs will compete live in Kansas City for cash prizes and the chance to be crowned U.S. champion and proceed to the international finals in Rotterdam, the Netherlands. The U.S. national finals will feature startups delivering their best pitches, a panel of high-profile judges, and an evening spectacular with the action in a boxing ring at center stage.
Demo Day
Tuesday, Nov. 19 – 12:30-5 p.m. ET
A luncheon keynote presentation by Bill Aulet, managing director and senior lecturer in the Martin Trust Center for Entrepreneurship at MIT, kicks off Demo Day. Aulet will address "Disciplined Entrepreneurship: 24 Steps to a Successful Startup." Following, more than a dozen Kansas City entrepreneurs will take the stage to make their most compelling pitches in support of the businesses they've launched.
1 Million Cups
Wednesday, Nov. 20 – 10-11 a.m. ET
Now serving up coffee, entrepreneurial education, and networking opportunities in 20 cities, Kauffman Labs' 1 Million Cups is engaging entrepreneurs and accelerating startups across the United States. 1 Million Cups offers two local startups each week the opportunity to present their companies to a diverse audience of mentors, advisors and entrepreneurs.
The Mayors Conference on Entrepreneurship
Wednesday, Nov. 20 – 11:15 a.m.-5 p.m. ET
Mayors and entrepreneurship experts from around the country share insights about promoting startup activity and discuss ways to encourage higher levels of entrepreneurship in U.S. cities. The program will offer education, discussion and engagement regarding entrepreneurship policy, implementation and sharing of ideas.
Founders School Live – Craig Wortmann Presentation
Thursday, Nov. 21 – 2-3:30 p.m. ET
How do you work a room? Or a phone? How do you know when you are in a "sales" conversation? And once you are, how do you qualify potential customers and then handle their inevitable objections? These are some of the most challenging skills and disciplines for entrepreneurs to tackle when they focus on selling. Craig Wortmann, CEO and founder of Sales Engine, will unlock and demonstrate the key skills and disciplines in a fast-paced 90-minute session, "Having Sales Conversations, Qualifying Customers and Handling Objections."
Founders School Live – Nathan Gold Presentation
Friday, Nov. 22 – 11 a.m.-1 p.m. ET
Entrepreneurs and business people understand the importance of engaging and captivating an audience, be it one or 1,000 people. In this session with Nathan Gold, founder of The Demo Coach, participants will learn to design and implement their value statement. A brainstorming exercise will help them apply new knowledge to discover compelling ways to articulate the value of what they do and why they do it.
Find the latest information on these and all GEW-Kansas City events. Learn more about GEW at http://www.unleashingideas.org.
About the Kauffman Foundation
The Ewing Marion Kauffman Foundation is a private, nonpartisan foundation that aims to foster economic independence by advancing educational achievement and entrepreneurial success. Founded by late entrepreneur and philanthropist Ewing Marion Kauffman, the Foundation is based in Kansas City, Mo., and has approximately $2 billion in assets. For more information, visit http://www.kauffman.org, and follow the Foundation on http://www.twitter.com/kauffmanfdn and http://www.facebook.com/kauffmanfdn.
About Global Entrepreneurship Week
During one week each November, thousands of events and competitions around the world inspire millions to engage in entrepreneurial activity while connecting them to potential collaborators, mentors and even investors. In five years, Global Entrepreneurship Week has expanded to 139 countries—building and strengthening entrepreneurial ecosystems around the world. Powered by the Ewing Marion Kauffman Foundation and sponsored by Dell, the initiative is supported by dozens of world leaders and a network of roughly 10,000 partner organizations. For more information, visit http://www.unleashingideas.org, and follow @unleashingideas on Twitter.