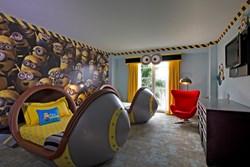 From the moment they step inside, children and adults alike will be swept up in the world of Despicable Me.
Orlando, FL (PRWEB) November 11, 2013
The world's first and only Despicable Me-inspired hotel suites are making their debut at Loews Portofino Bay Hotel at Universal Orlando Resort. The suites bring to life the excitement and playfulness of Gru's house, featuring missile beds and Minions, who rappel from the ceiling and surround guests with their unpredictable antics. Despicable Me 2 arrives on Digital HD on November 26 and Blu-Ray™, Blu-ray™ 3D and DVD on December 10.
A special time-lapse video captured the entire renovation from start to finish, along with the mayhem that ensued along the way. The project took more than 5,000 hours of work, 600 yards of carpeting, 36 missile beds, dozens and dozens of Minions and countless bunches of bananas to complete. Click here to see a hotel room renovation unlike any other.
"Our guests will love the theme and attention to detail that went into creating these one-of-a-kind suites," says General Manager Diane Petit of Loews Portofino Bay Hotel. "From the moment they step inside, children and adults alike will be swept up in the world of Despicable Me."
These two-room suites feature the kids' room outfitted with custom-designed missile beds with Minion-inspired bedding, so that children can sleep like Gru's adorable girls: Margo, Edith and Agnes. A pale blue interior creates a soothing backdrop, while touches of Gru's laboratory's red accents remind guests that they are indeed in an unforgettable Minion adventure. The adults' room features a king-sized bed in the hotel's newly-renovated Italian luxury design. An added feature that parents will appreciate is a single entry door into the suite; the kids' side of the suite does not have a door that opens into the hallway. All of the hotel's 18 kids suites have been transformed with the Despicable Me theme.
Guests staying on-site can save up to 30 percent when they stay three nights or more with the "Stay More, Save More" promotion. On-site hotel guests receive a package of exclusive benefits, including Early Park Admission and free Universal Express Unlimited ride access, which lets them skip the regular lines on most rides and attractions in Universal Studios and Universal's Islands of Adventure. For reservations, visit http://www.universalorlando.com/portofinobay or call (888) 273-1311.
About Despicable Me 2
Universal Pictures and Illumination Entertainment's worldwide blockbuster, Despicable Me, entertained audiences around the globe in 2010, grossing more than $540 million and becoming the 10th-biggest animated motion picture in U.S. history. Get ready for more Minion madness in Despicable Me 2.
Chris Meledandri and his acclaimed filmmaking team create an all-new comedy adventure, featuring the return of (former?) super-villain Gru (Steve Carell), his adorable girls, the unpredictably hilarious Minions … and a host of new and outrageously funny characters. http://www.despicable.me.
About Loews Hotels & Resorts
Headquartered in New York City, Loews Hotels & Resorts owns and/or operates 19 hotels and resorts in the U.S. and Canada including the newly acquired Loews Madison Hotel located in the heart of Washington at the epicenter of legendary D.C. landmarks and the Loews Boston Hotel, one of Boston's pre-eminent historic buildings, situated on the corner of Berkeley and Stuart Streets. Located in major city centers and resort destinations in North America from coast to coast, the Loews portfolio features one-of-a-kind properties that go beyond Four Diamond standards to delight guests with a supremely comfortable, uniquely local and vibrant travel experience. For reservations or more information about Loews Hotels & Resorts, call (800) 23-LOEWS or visit: http://www.loewshotels.com.
About Universal Orlando Resort
Vacation like you mean it at Universal Orlando Resort – where every heart pounding, jaw-dropping, goose-bumping second counts. With two incredible theme parks, Universal Studios Florida and Universal's Islands of Adventure, three magnificently themed on-site hotels and a nighttime entertainment complex, Universal Orlando is the only place where you can turn spending time with your family into spending time as a family. Together, you can soar above Hogwarts with Harry Potter, swing above the streets with Spider-Man, become a Minion in the hilarious and heartwarming Despicable Me Minion Mayhem ride, and join Optimus Prime in the fight to save mankind on the new mega-attraction, TRANSFORMERS: The Ride – 3D.