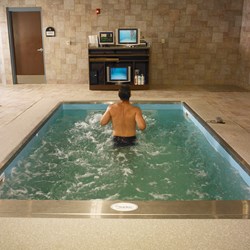 Evidence from the professional ranks, and rehabilitation literature reveal that aquatic programs led by physical therapists can contribute to the success of competitive athletes and people at all levels.
Middletown, PA (PRWEB) November 09, 2013
It should come as no surprise to learn that approximately 10,000 Baby Boomers (those born between 1946 and 1964) are turning 65 every day. Fortunately, they are unlike any other generation that preceded them, because they tend to put a large focus on living a healthy lifestyle. Running, walking, tennis, racquetball, weight lifting, aerobic classes, golf and other sporting activities are part of their weekly regimens. The trick is for them to keep their bodies in tip-top shape as they age, because injuries are more common as humans grow older.
For physical therapists with access to aquatic therapy technology such as underwater treadmills and resistance jets, the aging athlete is a potential source of untapped revenue. Older Americans are typically willing to pay to continue their preferred activities, and have the financial means to do so.
On Tuesday, November 12, 2013, from 1:00-2:00 p.m. EST, HydroWorx will tackle this topic during a webinar entitled "Expand Your Business by Offering Aquatic Therapy for the Aging Athlete". The event will be presented by Mike Studer, President and Co-owner ofNorthwest Rehabilitation Associates.
Attendees should expect to learn:

Specific techniques for adding alternate revenue streams to their practices, including how to market to a community.
How to handle aquatic therapy through private-pay and third-party reimbursement.
Case studies from facilities that have increased their profit margins after targeting the aging athlete market.
The scientific benefits of water rehab and workouts for competitive (and recreational) athletes.
The best methods to train aging athletes while keeping in mind the muscular, circulatory, integumentary, respiratory and skeletal-joint effects of the aging process.
A board-certified Clinical Specialist in Neurologic Physical Therapy, Studer is particularly well-suited to lead this webinar discussion, as he has been the vice-president of the American Physical Therapy Association's Neurology Section and is currently the Chair of the APTA Geriatric Section Balance and Falls Special Interest Group. He publishes articles, is an invited speaker at international venues, and was recently honored by being called the clinician of the year in 2011 by the American Physical Therapy Association.
Though the webinar is free, registration is required. Interested participants can register for "Expand Your Business by Offering Aquatic Therapy for the Aging Athlete" at http://ww2.hydroworx.com/webinar-nrha-studer.
About HydroWorx
HydroWorx, based in Middletown, Pennsylvania, offers a wide range of underwater treadmill therapy pools, and peripheral products and services. Every day, more than 23,000 athletes and patients use HydroWorx technology to recover from injuries and health conditions.
More information about HydroWorx's upcoming webinars, as well as archived webcasts from previous events, can be found by visiting http://www.hydroworx.com/research-education/video-library/details.aspx?id=151&categoryId=23.
# # #