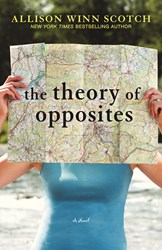 The book industry is constantly changing, and at this time in my professional life, I'm committed to taking greater risks.
Los Angeles, CA (PRWEB) November 11, 2013
Allison Winn Scotch, the New York Times bestselling author of four novels including TIME OF MY LIFE and THE ONE THAT I WANT, will release her first self-published novel this month entitled THE THEORY OF OPPOSITES (November 12, 2013; $13.95; ISBN-978-0-9894990-0-2). Jennifer Garner's Vandalia Films is also attached to produce this heartfelt yet hilarious tale of one woman's trek to cast aside her doubts and start owning her choices.
Scotch, who has enjoyed a successful career with several traditional publishers, will release THE THEORY OF OPPOSITES under her own imprint Camellia Press.
"The book industry is constantly changing, and at this time in my professional life, I'm committed to taking greater risks," said Scotch. "As a writer, I believe in pushing yourself beyond the work you've already produced—whether or not your book becomes a bestseller. All a writer can ask of herself, is that she writes to the best of her abilities. With traditional publishers, the rest is out of her hands. I'm impressed with what's happening in the self-publishing world when it's done right. I won't deny that it's overwhelming to venture out on my own, away from the power of publishing houses, but the knowledge gained in being involved in every step of the process is rewarding. It's easy to talk about control and wanting more of it when it comes to your books. It's harder to take that leap of faith with sound mind and heart in what is truly a lengthy and challenging process."
Traditionally published and award-winning authors such as Jon Clinch, Hugh Howie and David Mamet have given the self-publishing industry greater credibility. Authors' experiences with the various editorial and marketing processes—from cover art to publicity—as well as the sophistication in the quality of their product has given an increased boost to what was previously labeled as a vanity press that was poorly regarded by industry professionals. Among the potential perks of being published by one of the big five publishers is having the book optioned for a film; however this is rare, even more so for self-published authors, regardless of their name recognition, previous awards and bestselling status.
On THE THEORY OF OPPOSITES
What happens when you think you have it all, and then suddenly it's taken away?
Willa Chandler-Golden's father changed the world with his self-help bestseller, IS IT REALLY YOUR CHOICE? WHY YOUR ENTIRE LIFE MAY BE OUT OF YOUR CONTROL. Millions of devoted fans now find solace in his notion that everything happens for a reason. Though Willa isn't entirely convinced of her father's theories, she readily admits that the universe has delivered her a solid life: a reliable husband, a fast-paced career. Sure there are hiccups – negative pregnancy tests, embattled siblings - but this is what the universe has brought, and life, if she doesn't think about it too much, is wonderful.
Then her (evidently not-so-reliable) husband proposes this: A two-month break. Two months to see if they can't live their lives without each other. And before Willa can sort out destiny and fate and what it all means, she's axed from her job, her 11 year old nephew Nicky moves in, her ex-boyfriend finds her on Facebook, and her best friend Vanessa lands a gig writing for Dare You!, the hottest new reality TV show. And then Vanessa lures Willa into dares of her own - dares that run counter to her father's theories of fate, dares that might change everything…but only if Willa is brave enough to stop listening to the universe and instead aim for the stars.
###
Allison Winn Scotch is the New York Times bestselling author of five novels, including The Theory of Opposites, Time of My Life, The Song Remains the Same, The One That I Want and The Department of Lost & Found. She lives in Los Angeles with her family. For more information, visit http://www.allisonwinn.com and on Twitter at @aswinn.