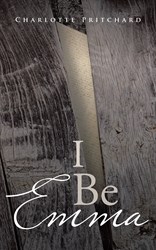 Minneapolis, Minn. (PRWEB) November 11, 2013
Young Emma lives in rural Tennessee with her adoring parents during World War I. At least, that's what she thinks until she has a strange encounter with a woman in town. The truth quickly unravels and Emma finds out the people she calls her parents are actually kidnappers. "I Be Emma" tells her story of self-discovery.
Stemming from her interest in cultural phenomena such as nature vs. nurture and her love for mystery writing, author Charlotte Pritchard developed Emma's story to explore the factors behind a person's emotional and mental makeup.
While touching on issues like poverty, kidnapping and illiteracy, "I Be Emma" is a multi-faceted book aimed to appeal to a variety of audiences, especially those interested in the human condition. Pritchard crafted each character to portray the broad spectrum of human behavior, our strengths, weaknesses and power to endure.
"I Be Emma"
By Charlotte Pritchard
ISBN: 9781475978056
Available at Amazon, Barnes and Noble and iUniverse online bookstore
About the Author:
Charlotte Pritchard was born and raised in South Dakota. Along with writing, Pritchard enjoys scrapbooking, genealogy, history and reading.