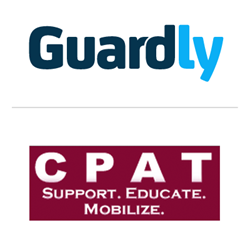 We have conducted a thorough research and evaluation process to determine the best public safety technology solution in the market. Guardly mobile safety technology was the best choice
Toronto, Canada (PRWEB) November 12, 2013
Guardly, a leader in mobile safety solutions and mobile mass notification system (MMNS) applications for enterprise, campus and community safety, announced that it was selected by the Crime Prevention Association of Toronto (CPAT) as its strategic partner to bring a next-generation, city-scale crime prevention and reporting platform to the City of Toronto. Guardly's MMNS and inbound emergency alerting solutions were chosen by CPAT due to their high scalability and robust functionality to support this major financial and cultural center. This solution, powered by Guardly technology, will be rolled out as notifEYE mobile, a Neighborhood Watch project to improve civic engagement – particularly youth and diverse populations – and alignment with city police resources.
"We have conducted a thorough research and evaluation process to determine the best public safety technology solution in the market. Guardly mobile safety technology was the best choice," said Jeff Paulin, President of CPAT. "As we continue to provide guidance on effective crime prevention, reporting and tracking strategies to our community, we focus on delivering networking opportunities that raise the level of community-involved security in crime-affected areas and encourage resource sharing and community cohesion. Guardly technology adds an important layer to our grassroots emergency communications and community infrastructure."
Guardly's MMNS goes beyond traditional mass notification capabilities which commonly leverage group-based distribution lists to notify recipients regardless of their location. Its technology infrastructure is highly scalable, capable of sending 500,000 alerts in just seconds and is more reliable than traditional SMS-based systems. Using this platform, community safety administrators and police forces are provided with a unique way to send location-targeted notifications to people located within specific geographic boundaries and buildings in real-time. Guardly's MMNS delivers a two-way communication mechanism and improves threat intelligence for security operators by providing access to text messages and photos sent by community members related to active threats. The technology also helps with emergency preparedness planning and provides the ability for safety administrators to create and store notification and distribution profiles in advance, for later use when time is of the essence.
"We are thrilled to be selected by CPAT as the exclusive provider of mobile alerting and mass notification solutions to enhance community safety," said Josh Sookman, Guardly chief executive officer. "As a Toronto-based company, we are excited to have the opportunity to share our continuous innovations with neighbours and local businesses in our home and work communities." As most calls for assistance come from mobile phones today, notifEYE mobile will enable improved situational awareness and better communication between officials, community and/or private security teams, residents and businesses.
Ideally suited for cities, municipalities and communities, Guardly puts a "smart", one-touch duress button onto the smartphones of each resident, enabling them to report emergencies more effectively. Other municipalities are also using Guardly technologies for lone and remote worker safety, enhancing the ability to alert and communicate with internal Security Operations Centers (SOCs). Its technologies can also be deployed by police forces and made available to the public for use as an addition or augmentation to traditional 911 emergency reporting. Visit Guardly at the Secured Cities event in Baltimore, MD from November 14-15 at booth #312 to learn how its mobile safety applications help to increase municipal security and city safety.
notifEYE mobile, powered by Guardly, will be available through subscription in the coming months. Subscribers will have access to expandable, detailed reports created through the back-end of the application. These reports will help forecast safety and security needs for multiple layers of government, law enforcement, social-service agencies, businesses and residents. As Guardly mobile safety technology has proven to reduce response times by up to 44 percent and provide significant savings to the security teams, it will serve as strategic integral part of Toronto efforts to prevent crime and create a more cohesive, safer community.
About Guardly
Guardly provides mobile safety and security solutions for large enterprises, campuses, cities and countries. Leveraging the latest cloud, mobile, indoor-positioning and real-time technologies, Guardly is radically improving traditional emergency notification, communication and management. With over 70% of all emergency calls now arising from mobile phones, more emergency response teams rely on Guardly's modern infrastructure to better manage inbound calls for help from mobile devices. Guardly mobile safety applications on Android, iPhone, Windows Phone and BlackBerry act as personal emergency phones that broadcast GPS and indoor location, profile and identity, and support two-way communication with security operators and authorities. For Security Operations Centers (SOCs), Guardly provides an integrated platform for incident monitoring and response, helping security operators make faster and more effective decisions. For the 10% of emergency calls that are non-responsive, Guardly's industry-leading Indoor Positioning System (IPS) can transmit the building, floor and room location of an emergency caller to security operators and help them find these callers in minutes, not hours. Guardly's Mobile Mass Notification System sends 500,000 geo-targeted notifications in seconds, utilizing unique messaging protocols for higher reliability, performance and interaction. More information about Guardly is available at: https://www.guardly.com.