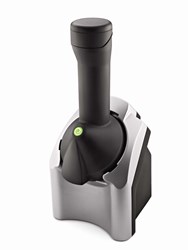 We want our fans to live a beautiful, healthy life to the fullest, and this is certainly one way to enjoy it.
Cleveland, Ohio (PRWEB) November 12, 2013
Yonanas, the fun, easy kitchen appliance that turns frozen bananas and other frozen fruit into a healthy, delicious, frozen treat just like ice cream, has joined forces with Dole Fresh Fruit to host "Go Yonanas in Tahiti," a month-long contest providing the chance of a lifetime to one lucky winner—to the South Seas paradise of French Polynesia.
The sweepstakes winner will receive the grand prize of a six-day, five night Tahitian trip for two provided by Islands In The Sun—the dedicated travel service with expertise in the South Pacific region—which will include roundtrip airfare, non-stop from LAX on Air Tahiti Nui, one night in an ocean view room of the Radisson Plaza Resort Tahiti, and four nights in an overwater bungalow at the five-star Hilton Moorea Lagoon Resort & Spa, with windows in the floor to watch the ballet of tropical fish swim by in the crystal blue lagoon. In addition to the trip, the winner will also receive a free Yonanas machine and one year of free DOLE® Bananas to allow them to "Go Yonanas" all year long.
Participants will be able to enter the sweepstakes once-a-day beginning November 11th through December 20, 2013 and a winner will be announced a few days after the sweepstakes closes. It is simple; here's how to enter:

Just visit the Facebook page (http://bit.ly/1gL75wD)
Click on the "Go Yonanas in Tahiti" tab
Fill out the registration form
Enter again the following day and as many days as you like until the contest ends on December 20th
"We teamed up with great brands and services for the 'Go Yonanas in Tahiti' sweepstakes to give our fans a chance to get away and enjoy this beautiful island," said Eileen McHale, co-founder of Healthy Foods, LLC. "We want our fans to live a beautiful, healthy life to the fullest, and this is certainly one way to enjoy it."
"We're excited at any opportunity to deliver the Dole message that getting your daily fruits and vegetables can be easy, delicious and fun," explained Bil Goldfield, director of corporate communications for Dole Fresh Fruit. "Certainly, the 'Go Yonanas in Tahiti' contest delivers on all three of these promises."
The sweepstakes is open to legal residents of the United States (including the District of Columbia; excluding Rhode Island) and Canada (excluding Quebec) who are at least eighteen (18) years at the time of entry. See official rules for details.
To hear more about the sweepstakes or to learn more about the Yonanas machine and get great recipes visit http://www.yonanas.com.
About Healthy Foods LLC
Launched in 2009 as a division of Winston Products, LLC, Healthy Foods, LLC is a product development company based in Cleveland, OH. This high growth company is dedicated to creating innovative products that allow people to live healthier lives. Healthy Foods' first product to market is the Yonanas™ frozen fruit dessert maker. Yonanas™ creates a healthy treat with the look and feel of soft-serve ice cream with 100% fruit in seconds. Passionate about providing healthy options, the company has introduced Frinkles—the healthy alternative to sprinkles, made of 100% freeze dried fruit. For more information, visit http://www.yonanas.com.
About DOLE Bananas
DOLE is the top-selling banana in North America — in both conventional and organic product categories. Since its establishment, Dole has built its reputation on a ceaseless commitment to quality. Today, the DOLE brand stands for more than 100 years of quality produce — and one of the world's largest suppliers of fresh fruits and vegetables, including bananas. Dole strives to grow, produce, harvest, transport and distribute its bananas and other produce in the most environmentally and socially conscious way possible. For information, go to http://www.dole.com/Products/Fresh-Fruits/Bananas
About Dole Food Company, Inc.
Dole Food Company with 2012 revenues from continuing operations of $4.2 billion, is one of the world's largest producers and marketers of high-quality fresh fruit and fresh vegetables. Dole is an industry leader in many of the products it sells, as well as in nutrition education and research. For more information, please visit http://www.dole.com or http://investors.dole.com
About Islands in the Sun
We know how many travelers dream of visiting the South Pacific. We know because we have been turning those dreams into reality for the past five decades. Considered a pioneer in American tourism to Tahiti and other destinations in the South Pacific, Islands in the Sun "discovered" Tahiti in 1965, when this exotic island paradise was home to only a few small hotels and its tourism industry was virtually non-existent. Over the past 40 years, our destination experts have helped tens of thousands of discerning travelers experience the seduction and magic of the South Pacific for themselves – because to know Tahiti and the other islands in this region is to fall in love with them. Forever. For more information, please visit http://www.islandsinthesun.com.
Editor's Note: For more information about Yonanas or to arrange an interview with Eileen McHale, please contact Nancy Trent or Pamela Wadler at (212) 966-0024 or pam(at)trentandcompany(dot)com.