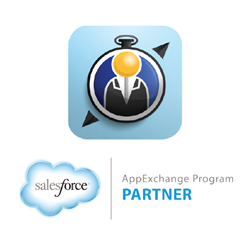 "Leveraging the power of the Salesforce Platform, Sales Navigator is helping sales teams do more with their CRM data on the go and drive success." - Leyla Seka, VP, AppExchange and Partner Operations, salesforce.com
Parsippany, NJ (PRWEB) November 13, 2013
The Casey Group today announced it has launched Sales Navigator on salesforce.com's AppExchange, empowering businesses to connect with customers, partners and employees in entirely new ways. Now available on the AppExchange, the Sales Navigator iPad app seamlessly integrates contacts, locations and calendars while showing daily appointments on a map. The app's robust feature set helps enterprise sales forces access and organize large contact lists, plan daily sales routes, and improve customer relationships—all while syncing and updating their information with their Salesforce Sales Cloud data.
Built on the Salesforce Platform, the world's leading cloud platform for social and mobile business apps, Sales Navigator is currently available on the AppExchange at http://www.appexchange.com.
Comments on the News

"Providing the power to view, group and filter prospects and customers on a map ensures that sales teams boost productivity daily," said Richard Casey, president and CEO of The Casey Group. "Based on valuable feedback from many of our more than 22,000 users across 90 countries, Sales Navigator is an app that sales professionals embrace and use to improve their success and increase customer satisfaction."
"The future of enterprise apps is social, mobile and connected," said Leyla Seka, vice president, AppExchange and Partner Operations, salesforce.com. "Leveraging the power of the Salesforce Platform, The Casey Group is helping sales teams do more with their CRM data on the go and drive success."
"We are very proud to be demonstrating Sales Navigator at Dreamforce and welcome attendees to visit us at Booth 1010 in Moscone North," said Jerry Auriemma, chief marketing officer of The Casey Group. "Many of our existing customers have been looking forward to this integration with Salesforce and we are very proud to now offer Sales Navigator to salesforce.com customers via the AppExchange."
Product Key Features
Sales Navigator helps transform sales organizations into customer companies by boosting their sales team productivity while in the office and while on the go. Sales Navigator helps sales teams plan, manage, and close more deals.
Plan: Planning your upcoming day just became easier as users can view, group, and filter accounts, leads, and contacts on a map. By optimizing their route to their most important contacts for a given day they can spend as much time as possible seeing targeted clients.
Manage: Manage and log critical customer interactions—make notes, send emails, and view websites—all from within the iPad app while syncing key information back to Salesforce, all while on the go.
Close: See more of your most important clients each day by working smart and never missing an opportunity that may be located nearby.
Additional Resources

About the AppExchange
The Salesforce AppExchange is the world's leading business apps marketplace. With more than 2,000 partner apps and 2 million customer installs it is the most comprehensive source of social and mobile cloud apps for business. The Salesforce Platform is the world's most trusted and comprehensive cloud platform for building social and mobile cloud apps, powering Salesforce CRM, and more than 3 million custom apps built by customers and partners. Apps built on the Salesforce Platform can be easily distributed and marketed through salesforce.com's AppExchange.
Salesforce, AppExchange and others are among the trademarks of salesforce.com, Inc.
About The Casey Group
In business, the company behind the app is as important as the app itself.
The Casey Group is an award winning company, and a provider of custom business and technology solutions, since 1989. Clients have the comfort of knowing that Sales Navigator is powered by a multi-disciplinary team of IT specialists with a breadth of experience. Our team is capable of integrating and customizing Sales Navigator with your existing back-office systems on a variety of platforms including, Linux, mainframe, Windows and AS400.
The Casey Group has an award winning corporate culture and customer first mindset as evidenced by it being named one of the Best Places to Work in NJ for the last three consecutive years (2011-2013). Sales Navigator was named a 2013 Top 10 CES Mobility App and 2012 Best Mobility App, NJ Technology Council.
The Casey Group is a Microsoft Certified and IBM Advanced Business Partner and an active member of the Morris County NJ Chamber of Commerce and NJ Technology Council.