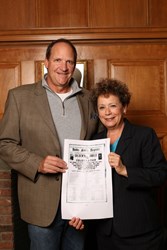 Dobbs Ferry, N.Y (PRWEB) November 13, 2013
Mercy College Interim President Dr. Concetta M. Stewart got a surprise this week when she found out her husband's great-great-grandfather was the first mayor of Dobbs Ferry, New York - the village that Mercy College calls home. Dr. Stewart, who is from New Jersey, didn't have any personal connections to the village prior to this discovery. The first mayor, then called president, was James H. Pooley. Stewart says the relation came to light when a relative of her husband's notified him of the discovery.
Along with making the personal discovery, Dr. Stewart also found a copy of the Dobbs Ferry Register, from June 29, 1923, that details the first fifty years of the village of Dobbs Ferry. On the first page of the paper - a photo of President James H. Pooley.
Dr. Stewart said: "We found out that the Pooley family home was the old Rudy's Beau Rivage. The connections are amazing!"
Stewart eagerly shared the news with the present Mayor of Dobbs Ferry Hartley Connett during their recent meeting. Connett, who had recently acquired a portrait of Pooley for Dobbs Ferry Village Hall, was just as surprised as Dr. Stewart by the discovery. Connett said: "Just goes to show you the importance of preserving Dobbs Ferry's history."
About Mercy College
Founded in 1950, Mercy College is a private, not-for-profit higher education institution that offers more than 90 undergraduate and graduate programs within five prestigious schools: Business, Education, Health and Natural Sciences, Liberal Arts and Social and Behavioral Sciences. Mercy College offers an engaging and personalized learning experience that includes the College's revolutionary Personalized Achievement Contract (PACT) program. The Mercy College PACT is the first program of its kind and now serves as a nationally recognized model for mentoring. http://www.mercy.edu/ 877-MERCY-GO.