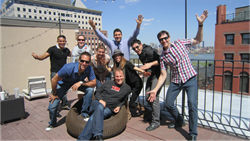 These five awards drive home our forward-thinking philosophy, which includes creating vibrant mobile websites for top brands. -Scott Delea, Managing Partner, Inflexion Interactive
Hoboken, NJ (PRWEB) November 12, 2013
The Davey Awards honored Inflexion Interactive for creativity in website design and development with three silver awards and two gold awards, making the digital marketing firm the only gold medal winner in New Jersey.
"This year's winners represent the best small firms," wrote Linda Day, Executive Director of International Academy of Visual Arts (IAVA), the organization that sanctions and judges the international competition each year. She added, "The work entered into this year's competition embodies a smart, tactful approach to creativity and highlights the capabilities and forward thinking mindset that makes small agencies so unique."
Inflexion Interactive adds five awards to its winnings, which includes a Webby from 2013. This not only makes the digital marketing firm an exclusive gold award winner in NJ, but also the most awarded firm in the Tri-State area. These new awards include:

2013 Gold Award: D'Angelico Guitars - Websites - Music
D'Angelico Guitars is a famous guitar brand by master guitar maker John D'Angelico. The client needed interactive website design and development that not only entertained archtop guitar players, but shared the origin of the brand's style and craftsmanship.
2013 Gold Award: D'Angelico Guitars - Mobile Websites - Music & Audio
In addition to a graphic-rich interface exists a mobile website for musicians on the go.
2013 Silver Award: Gonzaba Medical Group - Websites - Health
Gonzaba Medical Group is a full-service healthcare practice dedicated to compassion, community and care for the entire family. The healthcare business needed a new website. Design included scrolling content that informed and engaged patients online.
2013 Silver Award: Hartz UltraGuard - Mobile Websites - Shopping
Hartz Ultra Guard provides products that protect pets from fleas and ticks. The company received a responsive website design with content management customization and search engine optimization. informing pet owners of the best protection for their pets.
Inflexion Interactive | Press Release for Davey Awards" Friday, November 8, 2013
2013 Silver Award: LINAR - Websites - Publishing
Latino Information Network at Rutgers (LINAR) produces research on social, political and economic issues affecting Latinos. This think tank needed a responsive website with a custom CMS that put researchers, students and advocates on the same page.
"We've worked diligently to be recognized alongside the world's best small firms for our creativity and innovation in website design and development," said Scott Delea, Managing Partner of Inflexion Interactive. "These five awards drive home our forwardthinking philosophy, which includes vibrant responsive design for a mobile-driven world."
The Davey Awards received nearly 4,000 entries this year. Entries were judged by the International Academy of the Visual Arts, an invitation-only body consisting of top-level professionals of acclaimed media, interactive, advertising and digital marketing firms.
About Inflexion Interactive
Inflexion Interactive is a full-service digital marketing agency that delivers award-winning solutions to mid-sized and Fortune 1000 companies. Their design and development specialists plan, execute and manage a complete suite of services, including website design, development, mobile, search, email and social marketing. They are trusted marketing partner that works strategically and efficiently. The company is headquartered in Hoboken, NJ with clients located nationally.
For more information, please visit http://www.InflexionInteractive.com or call 1-888-399-1772.
About The Davey Awards:
The Davey Awards exclusively honor the "Davids" of creativity, the finest small firms, agencies and companies in the world. David defeated the giant Goliath with a big idea and a little rock - the sort of thing small firms do each year. The annual International Davey Awards honors the achievements of the "Creative Davids" who derive their strength from big ideas, rather than big budgets. The Davey Awards is the leading awards competition specifically for smaller firms, where firms compete with their peers to win the recognition they deserve. Please visit http://www.daveyawards.com for more information.
The Davey Awards is sanctioned and judged by the International Academy of the Visual Arts, an invitation-only body consisting of top-tier professionals from a "Who's Who" of acclaimed media, advertising, and marketing firms. Please visit http://www.iavisarts.org for a full member list and more information.