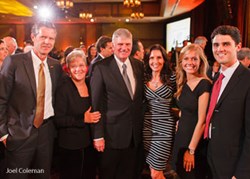 Lynchburg, Va. (PRWEB) November 08, 2013
As millions tuned in Thursday night to view "The Cross" on primetime television, the short film featuring a powerful message from world-renowned evangelist Billy Graham, more than 400 Liberty University students were eagerly standing by to answer a flood of calls from viewers all over the country.
From a classroom on Liberty's campus and from InService America (a call center located nearby), students — called "Matthews" (what the Billy Graham Evangelistic Association calls those who participate in discipleship) — led viewers in prayers of salvation.
Christina Day, a project director at InService America, said this was the first time BGEA had asked a university for help in its follow-up efforts. The two locations combined to form the largest call center hub for the event.
Day said Liberty students fielded about 450 calls during the peak time on Thursday night. Students will also man the centers on Friday and Saturday as the show airs on more channels nationwide.
"When we called Liberty, President Falwell opened the doors and basically said, 'Whatever you need,'" Day said. "I have been blown away and blessed by these students."
President Jerry Falwell, Jr. viewed the telecast with his wife, Becki, in the presence of Graham himself during Graham's 95th birthday celebration near his home in Asheville, N.C. They joined 800 special guests, including Donald Trump and former Alaska Gov. Sarah Palin. A special "Happy Birthday" was sung by Michael W. Smith, Lecrae, Lacey Sturm, Kathie Lee Gifford, and Ricky Skaggs.
"Rev. Billy Graham and his family have been longtime friends of my family and the Liberty family," Falwell said. "Becki and I were honored to join the Graham family in celebrating the 95th birthday of a man who has preached the Gospel to more people worldwide than anyone else in history."
"The Cross" is the flagship program of the BGEA's My Hope America campaign designed to reach the nation with the Gospel message.
Liberty's involvement with the BGEA and the film actually began more than a month ago when 1,400 students in evangelism classes were asked to view another short film from the BGEA, "Defining Moments." More than 80 students made first-time decisions for Christ and 1,049 committed to becoming trained "Matthews" using My Hope America to share their faith. (Read more about this on BGEA's blog). The enthusiasm continued, and soon hundreds of students were being trained to answer phone calls for the newest film.
Junior Micah Green was one of those students. On Thursday night, he had his first experience leading someone to Christ.
"It was a young man who said he was just very ready to turn his life around," Green said. "I was fortunate to be able to be the one to talk to him. I was weeping with joy. I told him to tell other people of his decision because they would be just as ecstatic as I am."
Green said he was grateful for the opportunity provided by the BGEA.
"It was an honor to be a part of such a great organization that does this kind of evangelism," he said.
Liberty's student leadership team became involved when, on Tuesday, "The Cross" was shown to 240 resident assistants who in turn helped promote the film on campus. (The [BGEA website also featured this event.)
"The Cross" is being aired on more than 500 channels across the U.S. and Canada, including 115 network stations, TBN, and five different times on FOX News. Learn more at watchbillygraham.com.
The Graham family has many ties to Liberty. Billy Graham gave the 1997 Commencement address. Five of his grandchildren and three great-grandchildren have attended Liberty, and another grandchild, Basyle J. Tchividjian, is a professor at Liberty University School of Law. The Graham family was present for the funeral of Liberty founder Dr. Jerry Falwell on May 22, 2007, where Franklin Graham, son of Billy Graham, spoke. Franklin Graham was also the keynote speaker at Liberty's baccalaureate service in 1996. Billy Graham's second daughter, Anne Graham Lotz, spoke at Convocation in December 2009 and has filmed a video series on campus.
About Liberty University
Liberty University, founded in 1971, is the largest private, nonprofit university in the nation, the largest university in Virginia, and the largest Christian university in the world. More than 100,000 students attend classes on its 7,000-acre residential campus and study in its thriving online education program.