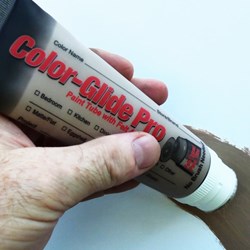 It's as easy as having a marker around. A marker that holds the exact color paint you need inside. Imagine the possibilities - you'll never have to look at scuff marks again.
Laguna Hills, California (PRWEB) November 12, 2013
When it is time to spruce up the home or office, stubborn scuffs can't be removed by "magic" sponges because they are useless in areas where the paint is scratched off. But the thought of pulling out rusty paint cans for such a small project leads many to put off painting until another day. Color-Glide® Pro now provides a simple, low cost solution for painting convenience.
A major home improvement survey recently revealed household painting as one of the most avoided home projects, ranked just behind cleaning junk out of the garage, clearing a rain gutter and washing dirty windows. Though painting with a paintbrush is a relatively easy task, paint jobs are avoided because of the time consuming preparation and clean up. It is also difficult to match colors, sheens and blend out brush marks.
Now with Color-Glide® Pro, when a wall needs a minor touch-up, simply remove the protective cap, squeeze some paint to the surface of the paint applicator and paint the scuff or scratch away.
"Color-Glide Pro is simple by design; it solves common problems and hassles associated with painting and provides more cost-effectiveness and convenience than a paintbrush," says inventor Scott Stevenson.
Color-Glide Pro allows for controlled painting right up to edges and corners without multiple trips to a paint can. The paint flow from the applicator tube is self-controlled, just like squeezing a tube of toothpaste. There is no preparation time, no set-up and no clean-up. Best of all, any paint color or type can be used with the applicator.
Barb Webb of RuralMom.com raves, "No mess, no drips and minimal clean-up after. I put the cap on the paint tube to re-use later and simply rinsed out the pump with warm water. Color-Glide Pro will remain a valued addition to my 'do-it-yourself' tool set for crafts and also for upcoming house painting projects. It will be so convenient to have a mess-free tool for painting touch-ups and help with surface areas like doors and window frames."
Color-Glide® Pro tubes and transfer pumps are made from recyclable materials. The applicators are available in both medium and large sizes, and are sold in Single, DualPacks and QuadPacks.
About Color-Glide
Located in Orange County, California since 2008, Color-Glide offers a full line of innovative paint application tools for household, home improvement, arts and crafts projects. Please visit http://colorglidepro.com for more information.