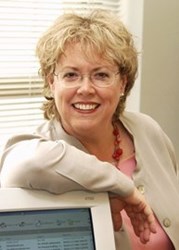 Dr. Mason is indicative of our exceptional faculty at Hunter, and a leader in her field, now recognized nationally. Diana will continue to stand as a beacon to her peers and contribute to her profession for the benefit of individuals and families.
New York, NY (PRWEB) November 13, 2013
Diana J. Mason, PhD, RN, FAAN, was recently elected President of the American Academy of Nursing, after serving as president-elect for two years. She replaces outgoing president Joanne Disch, PhD, RN, FAAN, who passed the title to Dr. Mason during the Academy's business meeting held during its annual policy conference in Washington, DC. Dr. Mason's term will run for two years.
Dr. Mason is the Rudin Professor of Nursing and Co-Director of the Center for Health, Media & Policy at Hunter College, City University of New York.
"I am honored to lead the Academy as it enters its fifth decade of operation, bringing to policy deliberations the expertise of more than 2,000 extraordinary thought leaders involved in all sectors of the profession, health care and society," said Dr. Mason. "I will seek to focus the Academy on three strategic goals: advancing reforms in our health care system, addressing factors other than health care that promote the health of populations, and ensuring that nurses serve on governing boards and policy-related bodies at the national level. Our fellows are committed to advancing health, social, and economic policies that promote the health of individuals, families and communities."
"We congratulate Dr. Mason for her terrific achievement and for her leadership at a national level," said Jennifer J. Raab, President of Hunter College. "Dr. Mason is indicative of our exceptional faculty at Hunter, and a leader in her field, now recognized nationally. As President of AAN, Diana will continue to stand as a beacon to her peers and contribute to her profession for the benefit of individuals and families for generations to come."
"Diana is an exemplar of a nurse mentor and scholar and has developed numerous nurse leaders over the years including students and practicing nurses," said Gail McCain, Dean of the School of Nursing. "As President of AAN, Diana will be able to leverage her expertise in public policy to carry out the AAN's mission to affect health policy. We wish her much success."
For more than a decade, Dr. Mason served as Editor-in-Chief of the American Journal of Nursing. She is Strategic Adviser for the Future of Nursing: Campaign for Action, a collaboration between the Robert Wood Johnson Foundation and AARP to foster implementation of the recommendations in the landmark Institute of Medicine report on The Future of Nursing: Leading Change, Advancing Health. A health journalist for almost 30 years, she serves on the National Advisory Committee of Kaiser Health News and blogs about health policy for JAMA News Forum and HealthCetera, the blog for the Center for Health, Media & Policy. The recipient of numerous awards and honorary doctorates, Dr. Mason is an internationally recognized scholar and leader in nursing.
About the Academy
The American Academy of Nursing serves the public and the nursing profession by advancing health policy and practice through the generation, synthesis, and dissemination of nursing knowledge. The Academy's more than 2,000 Fellows are nursing's most accomplished leaders in education, management, practice, and research. They have been recognized for their extraordinary contributions to nursing and health care.
About Hunter College
Hunter College, located in the heart of Manhattan, is the largest college in the City University of New York (CUNY) system. Founded in 1870, it is also one of the oldest public colleges in the country. Currently, 23,000 students attend Hunter, pursuing both undergraduate and graduate degrees in more than 170 different programs of study. Hunter College is famous for the diversity of its student body, which is as diverse as New York City itself. For nearly 140 years, it has provided educational opportunities for women and minorities, and today, students from every walk of life and every corner of the world convene at Hunter in pursuit of the American Dream. Hunter students are uniquely committed to their educations and their futures. Though the great majority hold jobs, most are the first in their families to attend college with 35% being first generation college students and another 16% who are first in their family to attend college. Their level of academic and professional achievement is extraordinary. They are published authors, community activists, exhibited artists, and civic leaders. Many go on to top professional and graduate programs, winning Fulbright scholarships, Mellon fellowships, National Institutes of Health grants, and other rare and competitive honors. Hunter graduates make a mark wherever they go, but the vast majority choose to give back locally -- if you come across an important artist, author, educator, government official, health professional, researcher, scientist, or social-service professional in New York City, there's a good chance he or she went to Hunter. The 1,700 full- and part-time members of Hunter's faculty are unparalleled. Thanks to the diverse and uniquely engaged student body, the abundance of New York's academic resources, and the ever-growing opportunities for teaching and research, Hunter attracts many of the nation's top scholars. They receive prestigious national grants, contribute to the world's leading academic journals, and play major roles in cutting-edge research. They are fighting cancer, formulating public policy, expanding our culture, enhancing technology, and more.
###