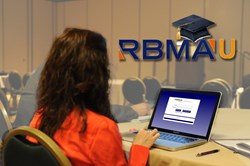 RBMA's new online education entity will offer radiology business training modules for individuals who are seeking education on demand and at their own pace.
Fairfax, VA (PRWEB) November 11, 2013
The Radiology Business Management Association (RBMA) is pleased to announce the creation of a new division of the association – RBMA U. RBMA U is RBMA's newest online learning environment where RBMA can reach out to the emerging leaders of tomorrow and expand our mission of education and leadership development in the business of radiology.
The curriculum offered within the program will concentrate on radiology business management and will support those seeking new skills in that specific field. Through a personal learning environment students nationwide can access courses 24/7 and work at their own pace at their convenience. Learning can take place without disruption to ongoing business operations. Staff no longer needs to be gathered into a single room.
The first series of online educational courses to be released in the Spring of 2014 is based on RBMA's Common Body of Knowledge and will introduce the basics of radiology business management. Radiology Business 101 will provide an overview of fundamental management process; planning, organizing, controlling, and leading as applied to radiology. It is designed as a survey course for the new manager or for those interested in exploring a business career in radiology.
RBMA U is currently seeking qualified and experienced faculty to present and produce Radiology 101 training modules. Interested candidates should apply here.
The Radiology Business Management Association is a national not-for-profit association providing members with applied business information and intelligence applicable in any radiology setting. The RBMA has approximately 2,300 members involved in various management capacities in private practices, academic radiology groups, imaging centers and hospitals. The RBMA continues to be recognized as the leader for radiology-specific educational programs, products and services, publications and data.