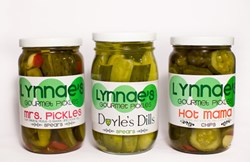 A total of nine jars of pickles worth at least $500-$1000 in cash prizes and gift cards from local businesses will be placed throughout the city for fans and pickle-lovers to find.
Tacoma, WA (PRWEB) November 10, 2013
Tacoma-based family business Lynnae's Gourmet Pickles will host its 2nd annual city-wide "pickle hunt" on Wednesday, November 14th in celebration of National Pickle Day. After a successful kick-off event last year, more local businesses have joined the festivities including this year's official sponsors, Northwest Family Expo, Tacoma Chamber and The Harmon. A total of nine jars of pickles worth at least $500-$1000 in cash prizes and gift cards from local businesses will be placed throughout the city for fans and pickle-lovers to find. To officially launch the pickle hunt, Tacoma's Mayor Marilyn Strickland will announce the first clue for the location of the first jar of pickles on the Lynnae's Gourmet Pickles Facebook page at 9 AM followed by a clue every hour until 5 PM.
"The participation and enthusiasm shown by the Tacoma community at last year's National Pickle Day hunt was impressive," said Tacoma's Mayor Marilyn Strickland. "This year will be even better with more participating businesses and opportunities to support our great local retailers."
Winners will enjoy themed prizes from various local businesses such as a "kids choice", "night on the town" and "Tacoma treats" baskets. After locating each jar of pickles, fans must take the jars to the post event at The Harmon to redeem each prize pack. Participating local businesses include HUB, the Tacoma Rainiers, T-Town Apparel, The Harmon, Savi Day Spa, Dandelion Wishes, Brown & Haley, Celebrity Cake Studio, Vigorous People, Lush Lashes by Kia, Corina Bakery, Gibsons, Innovative Fitness, FishWife Salmon, 25Trees, Grassis, Rainier Connect, Legendary Doughnuts, Maxwells Lounge, Carpe Diem Massage, Life Center, Frog n Kiwi, Treos and many more!
"Our goal is to raise awareness of all the amazing small local businesses in Tacoma and celebrate our local economy," said Lynnae Schneller – President of Lynnae's Gourmet Pickles. "Our hope is that Tacoman's will come enjoy enjoy a day of fun while supporting and shopping local."
To conclude the National Pickle Day "pickle hunt," Lynnae's Gourmets Pickles invites all to a wrap-up event at The Harmon from 5PM-7 PM where the prize packs will be awarded to the winners. Participants and fans will also enjoy free appetizers during the event.
For more information please visit http://www.lynnaesgourmetpickles.com. The Facebook page for Lynnae's Gourmet Pickles can be found at http://www.facebook.com/Lynnaesgourmetpickles.
About Lynnae's Gourmet Pickles
Headquartered in Tacoma, Washington, Lynnae's Gourmet Pickles is a family owned and ran business specializing in all-natural and hand-packed gourmet pickles. For years, the company's CEO, Lynnae Schneller had been making pickles for family and friends during the holidays and other special occasions. What started as a hobby in the kitchen of her home, has grown into a commercial business where products sold can be now be found in retail specialty and gourmet food stores throughout the nation. The company's secret recipe spans three generations. The flavors available include: Mrs. Pickles - a sweet and sour dill (chips, relish and spears), Hot Mama - sweet and sour dill with a kick of jalapeño (spears, relish and chips), and Doyle's Dill - a classic deli dill (spears). In September of 2013, Lynnae's Gourmet Pickles was a featured participant in the popular TV show Shark Tank.