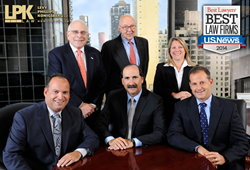 New York, NY (PRWEB) November 12, 2013
U.S. News & World Report and Best Lawyers announced last week that Levy Konigsberg LLP ("LK") has been recognized as one of the Best Law Firms for the year 2014. This makes it the fourth year in a row that LK is honored with such recognition. This time, the firm is among the best in multiple areas of law, including Mass Tort Litigation, Class Actions, Personal Injury, Product Liability, and Medical Malpractice.
A year earlier, LK was recognized by U.S. News & World Report and Best Lawyers as the Best Law Firm for the year 2013 in Plaintiff's Product Liability Litigation, while the firm's founding partner, Alan J. Konigsberg, was named the Best Lawyer in the same category. All LK partners have also been individually named Best Lawyers; most of them for several years in a row.
LK has gained national recognition representing victims of toxic exposure, including asbestos products, lead paint, and defective pharmaceuticals, as well as victims of medical malpractice.
For close to 30 years, the firm has been a national leader in mesothelioma litigation. LK mesothelioma attorneys have recovered hundreds of millions of dollars on behalf of their clients. Many of the firm's victories included record-setting verdicts and landmark court decisions that have shaped the history of asbestos litigation in America.
Over two decades of practice, the lead poisoning lawyers at LK have obtained numerous multi-million-dollar verdicts and settlements on behalf of children who suffered brain damage as a result of lead paint poisoning. The firm's medical malpractice lawyers have also achieved commendable success in the area of doctor and hospital negligence having secured several multi-million-dollar verdicts and settlements for their clients.
To learn more about the firm's history of accomplishments or to speak with an LK attorney, please call 24/7 at (800) 988-8005. The firm has offices in New York, New Jersey, and Georgia.