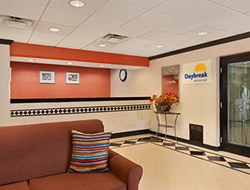 "Our partnerships are specially focused at expanding our services further..."
Albany, NY (PRWEB) November 12, 2013
Greenbee Parking, a growing airport parking service, has announced that Days Inn will be their new partner in Albany, New York. this strategic partnership will now make it easier for travelers using the busy Albany (ALB) airport to get parking spots of their choice whenever they travel, despite the rush or lateness of the hour. There are amazing deals for all who book a space through Greenbee but long term customers can expect to save a bundle with the new cheap ALB long term airport parking rates. This partnership will allow Greenbee to better serve their customers here with a wider range of options especially for those who prefer to park at a little distance away from the hustle and bustle of the airport. They can now park in the secure Days Inn parking lot without having to book a room there. Then they can simply hop on to the shuttle to catch their flight in leisure.
"Our partnerships are specially focused at expanding our services further," said Christine Cooper – Marketing Coordinator, Greenbee Parking. "We will be working very closely with Days Inn to make sure that all Albany (ALB) travelers have ample parking options to choose from. With the new ALB long term airport parking rates that we have introduced we are confident that we can offer more value for money compared to any other similar offers."
Albany International Airport Parking Information
The Albany International Airport is the main airport town of Colonie and an important alternate for travelers flowing in and out of Northeastern New York and Western New England. Strategically located in the crossroads of IHs 90 and 87, it sees a heavy flow of traffic round the year for both business and leisure travel. The rush and traffic handled by the airport belies its midsized nature and yet it is known as one of the leading airports for customer comfort and service. It's location in Albany naturally brings in a lot of snow filled months which can really hamper ground traffic flow. They have been awarded the prestigious '1996 Balchen-Post Award for Outstanding Achievement in Airport Snow and Ice Control for U.S. Medium Commercial Airports'. It is a testament to how well they have managed weather extremities and served passengers against all odds.
The airport has recently gone through major renovations and upgrades including in their parking system. In addition, they now have private players like Greenbee Parking who have added to the resources with their ample and innovative parking options. Now all frequent travelers can expect wider, more secure and cheaper parking opportunities with Greenbee's new ALB long term airport parking rates.
The Greenbee Airport Parking Solution
Greenbeeparking.com is the connection between consumers and parking vacancies in close proximity to major airports and seaports. The parking spaces are very affordable because the company has negotiated discounted rates with major hotel chains for the parking spaces that are not currently occupied. Here's how it works.
Greenbee Parking puts the available inventory of parking spaces on their website to be reserved by business and leisure travelers looking for cheap airport parking. This alternative method for finding parking equates to significant savings for the traveler. You can learn more about their offers from (http://www.youtube.com/watch?v=WWLybHNYjYQ) or via the web at (http://www.greenbeeparking.com).
About Greenbee Parking
Greenbee Parking is the nation's most innovative long term parking company, with a new way of making long term parking affordable. The company is rapidly adding new airports to its network.