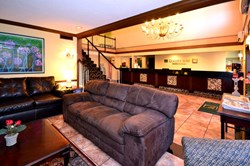 "Our constant efforts are to upgrade and improve so that we can be a step ahead and always offer the best to our customers."
St. Louis, MO (PRWEB) November 15, 2013
Greenbee Parking has announced a series of new discounted deals for all travelers using the busy St. Louis (STL) airport. Now, both long and short term travelers will have the opportunity to save on their airport parking expenses big time, with the new slashed St. Louis airport parking rates. In their latest upgrade to their web presence, the young company announced a series of new deals which will offer great parking choices, discount deals and long term benefits, all of which can be availed any time and by any one. All one has to do is go online and book the space of their choice through the official website (http://www.greenbeeparking.com/MISSOURI/STL). Right away one can see at least 30-75% savings on their usual travel expenses which is a veritable benefit for all, especially the frequent fliers. Their services have been specially designed to enhance the existing parking options so that travelers can have a wider range to choose from and derive maximum comfort.
"Our constant efforts are to upgrade and improve so that we can be a step ahead and always offer the best to our customers," said Christine Cooper – Marketing Coordinator, Greenbee Parking. "Our web upgrades showcase these efforts from time to time and is one of the best and easiest ways for our customers to keep tabs on what's new and hot, like the recently slashed St. Louis airport parking rates in the latest discount deals for STL."
Lambert–St. Louis International Airport Parking Information
Lambert–St. Louis International Airport is one of the oldest airports in the country with a rich aviation history behind it. Unlike other old airports however, it has kept up to it tradition of synchronized flights, super active status, superior air traffic control and maximum traveler comfort. With over 250 daily arrivals and departures it remains as one of the busiest airports in the country and connects over 90 domestic and international cities. 2011 airport data recorded over 13 million passenger footfalls which is a combination of leisure as well as business travel, courtesy its strategic proximity to downtown St. Louis. Naturally the airport parking space is in great demand and has this been through major renovations in recent times. The services have been further enhanced with the entry of young service providers like Greenbee Parking who have opened up the parking opportunities here with their innovative deals and very affordable St. Louis airport parking rates. Now travelers have more spaces to choose from, more savings every day and more innovative deals which they can uncover in the constant Greenbee web upgrades.
The Greenbee Airport Parking Solution
Greenbeeparking.com is the connection between consumers and parking vacancies in close proximity to major airports and seaports. The parking spaces are very affordable because the company has negotiated discounted rates with major hotel chains for the parking spaces that are not currently occupied. Here's how it works.
Greenbee Parking puts the available inventory of parking spaces on their website to be reserved by business and leisure travelers looking for cheap airport parking. This alternative method for finding parking equates to significant savings for the traveler. You can learn more about their offers from (http://www.youtube.com/watch?v=WWLybHNYjYQ).
About Greenbee Parking
Greenbee Parking is the nation's most innovative long term parking company, with a new way of making long term parking affordable. The company is rapidly adding new airports to its network.