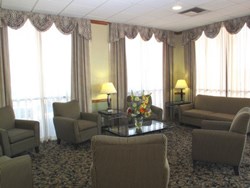 "We are happy to announce our partnership with a trusted brand like La Quinta Inn & Suites in Wichita."
Wichita, KS (PRWEB) November 19, 2013
Greenbee Parking has just announced a strategic new partnership with La Quinta Inn & Suites in Wichita. Now all travelers using the Wichita (ICT) airport will have more than ample parking options to choose from every time they travel. The young players have already made a distinct mark with their innovative offers in this very competitive industry. Their partnerships are specially designed to ensure even better deals for travelers many of whom would love to get a secure discounted parking space, away from the usual airport rush. The chance to do so and that too without having to book the rooms there has created quite a buzz in the market. To top it all, Greenbee customers get to enjoy incredibly cheap ICT airport parking rates (http://www.greenbeeparking.com/KANSAS/ICT) which offer them anything between 30-75% savings in their regular parking expenses.
"We are happy to announce our partnership with a trusted brand like La Quinta Inn & Suites in Wichita," said Christine Cooper – Marketing Coordinator, Greenbee Parking. "We want our customers to feel the Greenbee edge at every step which means greater security, easier booking options, a wide range of spots to choose from, comfortable shuttles for airport drop and pick up and of course incredible savings with our unbeatable and cheap ICT airport parking rates."
Wichita Mid-Continent Airport Parking Information
Wichita Mid-Continent Airport is a mid-sized airport but its size belies the kind of activity the airport sees on daily basis, which make it a very busy airport and business hub. Wichita's improving economy in recent years has contributed to rise in business travel which has added to the leisure travel figures and thereby increase passenger footfalls in the a mid-sized airport. It sees a high volume of activity as a busy commercial airport along with being a major hub for several leading carriers. It connects with all the major domestic destinations and as a connecting flight hub for international travel for all the inner cities. The amount of activity in and around the airport clearly shows why authorities here are focused at constant infrastructural and service upgrades. They want to ensure maximum customer satisfaction even through the increasing business figures every day.
Enter independent service providers like Greenbee Parking, who are working hand in hand with the airport authorities to aid in this process. With their new partnership with La Quinta Inn & Suites, the young company is now all set to offer a brand new set of parking offers that will benefit both long term and short term customers. The cheap ICT airport parking rates will ensure that all Greenbee customers enjoy hefty savings on their parking expenses from now on.
The Greenbee Airport Parking Solution
Greenbeeparking.com is the connection between consumers and parking vacancies in close proximity to major airports and seaports. The parking spaces are very affordable because the company has negotiated discounted rates with major hotel chains for the parking spaces that are not currently occupied. Here's how it works.
Greenbee Parking puts the available inventory of parking spaces on their website to be reserved by business and leisure travelers looking for cheap airport parking. This alternative method for finding parking equates to significant savings for the traveler. You can learn more about their offers from (http://www.youtube.com/watch?v=WWLybHNYjYQ).
About Greenbee Parking
Greenbee Parking is the nation's most innovative long term parking company, with a new way of making long term parking affordable. The company is rapidly adding new airports to its network.