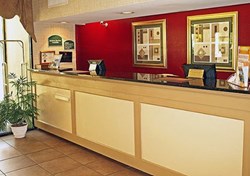 "We are always focused at bringing out the best of offers to serve our customers better."
Columbia, SC (PRWEB) November 21, 2013
Greenbee Parking, a fast growing airport parking service, has received rave reviews from its travelers using the busy Columbia (CAE) airport for their impeccable customer service and out of the box parking options. The young company stormed onto the scene to complement the existing parking infrastructure but has in a very short time established itself as the leading provider of cheap and secure parking. The latest CAE airport parking reviews show that the wide range of parking options in and around the airport, flexible durations and deals all lead to mega savings opportunity for travelers. Now there is immense scope for long term customers and frequent fliers to see major value in their bookings and witness a major slash in their travel budgets. But what makes Greenbee truly stand out is that even short term travelers can enjoy great savings by availing their service.
"We are always focused at bringing out the best of offers to serve our customers better," said Christine Cooper – Marketing Coordinator, Greenbee Parking. "The latest CAE airport parking reviews show that we have succeeded in this endeavor bases on customer reviews. It is a huge boost for us and we hope to come up with many more innovative offers in future to keep our tradition going."
Columbia Metropolitan Airport Parking Information
Columbia Metropolitan Airport is one of the busiest in the nation, chiefly because the city of Columbia is home to major businesses as well as educational institutes that draw hundreds of commercial travelers here round the year. The average passenger footfall easily goes over a million per year while the amount of cargo hauled is close to 170,000 tons. Increasing business for the airport has led to demands for infrastructural improvements and renovations close to a budget of $45 million. Along with the public improvements, there have also been dynamic private entities like Greenbee Parking who have introduced multiple parking options for both long and short term bookings. Their innovative offers have opened up many more ways to park without facing the typical airport rush or worrying about last minute bookings and yet offer mega savings. These amazing features are perhaps the reasons why they have been hailed so highly in the latest CAE airport parking reviews.
The Greenbee Airport Parking Solution
Greenbeeparking.com is the connection between consumers and parking vacancies in close proximity to major airports and seaports. The parking spaces are very affordable because the company has negotiated discounted rates with major hotel chains for the parking spaces that are not currently occupied. Here's how it works.
Greenbee Parking puts the available inventory of parking spaces on their website to be reserved by business and leisure travelers looking for cheap airport parking. This alternative method for finding parking equates to significant savings for the traveler. You can learn more about their offers from (http://www.youtube.com/watch?v=WWLybHNYjYQ) or via the web at (http://www.greenbeeparking.com).
About Greenbee Parking
Greenbee Parking is the nation's most innovative long term parking company, with a new way of making long term parking affordable. The company is rapidly adding new airports to its network.