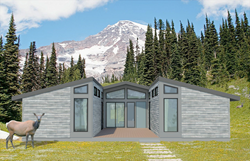 The C6P is the first modern ranch home with a LEED Platinum certifiable environmental program.
Santa Monica, CA (PRWEB) November 11, 2013
LivingHomes®, a premier developer of modern, sustainably designed, prefabricated homes, announces the launch and national availability of the new LivingHome C6P, the first LivingHome to feature a pitched roof. LivingHomes also announces the sale by Owner of a property in Los Angeles featuring the original LivingHome C6 as part of a resort-like complex in Midvail Estates, Van Nuys, CA.
"We have often had requests for LivingHomes that feature pitched roofs," said Steve Glenn, CEO of LivingHomes. "The C6P has options that make it perfect for hot, dry environments as well as those with lots of snow. Most of the LivingHomes' staff skis or snowboards so, selfishly, we're hoping some of our clients build LivingHomes near slopes – and they let us do lots of ski-season 'inspections.'"
The C6P is based on the C6, which was introduced last year at Modernism Week, the TED Conference, and Dwell. The C6 was designed as part of a new partnership with Make It Right, a nonprofit founded by Brad Pitt and renowned architect William McDonough to build 150 Cradle to Cradle inspired LEED Platinum homes in New Orleans' Lower Ninth Ward, the neighborhood hardest hit by Hurricane Katrina. A portion of the proceeds from the sale of each C6 helps support the efforts of Make It Right.
The 1288 square foot, 3 bedroom, 2 bath, C6P is available now in most states for $199,000 ($155/sf). The C6P can be fully constructed in less than two months and installed on-site in one day. Consumers can get complete information about the C6P and create a Virtual LivingHome C6P, with their choice of finishes and fixtures, at http://www.livinghomes.net.
C6P Design Features
The C6P was designed by LivingHomes staff, and was inspired by the remarkable modern homes built by developer Joe Eichler throughout California in the 50s and 60s as well as the modern ranch homes designed by Cliff May. Like many Eichler Homes, the C6P is organized around a courtyard that is accessible through a variety of openings and features an open floor plan that is ideal for indoor/outdoor lifestyles.
The 3 bedroom, 2 bathroom LivingHome includes:

Vaulted ceiling in the kitchen/dining/living space.
Cork floors, wood ceilings, and natural wood millwork.
Multiple sliding glass doors accessing the backyard and courtyard.
Floor-to-ceiling glass, clerestory windows, light tubes, and transom windows.
Ample storage, particularly in the kitchen.
Optional roof structure for up to 100 pounds per square foot for snow loads.
Cedar or reclaimed siding as an option.
C6P Environmental Features
The C6P is the first Energy Star® certified production home with a LEED Platinum level environmental program and Cradle to Cradle inspired products. It is also achieves most of LivingHomes' Z6 Environmental Goals: Zero Energy, Zero Water, Zero Emissions, Zero Carbon, Zero Waste, and Zero Ignorance.
Zero Energy: Energy efficient lighting and appliances, smart heating/AC control system to reduce power usage. Most LivingHomes have integrated photovoltaics to cover 100% of the homes needs.
Zero Carbon/Waste: Recycled materials & Cradle to Cradle inspired materials. Carbon off-set included in purchase price to counter energy used to create the home.
Zero Water: Low flow water fixtures. Grey water ready system.
Zero Emissions: No VOC paint. Formaldehyde-free millwork.
Zero Ignorance: Real time feedback on energy usage.
Making homes that are smaller and more efficient is a major goal of sustainable design and C6P's size, 1,288 square feet, is well below the national average of 2,380 sf for new homes (NAHB, 2011).
Estate Featuring First Installed C6 Offered for Sale
The C6 was first introduced at Modernism Week in 2012 and was then installed on a sprawling 16,799 square foot lot in the Midvale Estates section of Van Nuys, CA this year. The compound features a C6 with a 4.2 KW solar power system by Hot Purple Energy designed for Net Zero Energy, two full guest houses, a separate office structure, an oversized two car garage, detached storage pod, raised planter bed vegetable garden, and solar heated swimming pool. Both of the contemporary detached guest houses contain a single bedroom and bath, as well as separate living areas. One of the guest houses has an attached pool pavilion and outdoor shower, while the other has a full kitchen. In total, the compound has 5 bedrooms, 4 bathrooms, and an office. The professionally landscaped grounds feature an expansive pool completely remodeled in 2013, all new professionally landscaped grounds with large grassy areas, top of the line outdoor kitchen, large motor court, and plenty of room for entertaining. The C6 is expected to be certified LEED Platinum. There are two Open Houses scheduled for the property at 6549 Peach Ave, Van Nuys: Friday, 11/15, 11-2 pm and Sunday, 11/17, 1-4 pm. The property is offered for sale at $1,395,000. For more information, go to http://www.6549peach.com.
# # #
About LivingHomes
LivingHomes, founded in 2006, is a premier developer of modern, prefabricated homes that combine world class architecture with an unparalleled commitment to healthy and sustainable construction. LivingHomes offers two lines of single and multi-family designs by Ray Kappe, FAIA, the founder of the Southern California Institute of Architecture, and by Kieran Timberlake, an AIA Firm of the Year, in addition to the newly launched C6. The first LivingHome, designed by Ray Kappe, was the first in the U.S. to achieve LEED Platinum. Green Builder Magazine selected the second as the Green Home of the Year. Nine LivingHomes are certified LEED Platinum, making the company one of the most experienced sustainable homebuilders. LivingHomes are available in standard or customized configurations to builders, developers, and individuals across the nation. http://www.LivingHomes.net.
About Make It Right
Co-founded by Brad Pitt and William McDonough with Cherokee Gives Back and Graft, Make It Right builds safe, sustainable and affordable homes for families in New Orleans' Lower 9th Ward, the neighborhood hit hardest by Hurricane Katrina. Make It Right also works with local groups in Newark, NJ and Kansas City, MO to provide sustainable housing for disabled veterans and disadvantaged communities. For more information visit: http://www.makeitrightnola.org/.