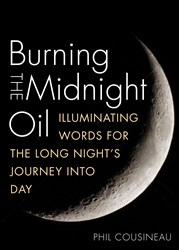 (PRWEB) November 09, 2013
Two once-in-a-lifetime events will happen for the book launch of Phil Cousineau's noctuary Burning the Midnight Oi: Illuminating Words for the Long Night's Journey Into Day. Join Phil Counsineau, artist Gregg Chadwick, and LA legend Jeff "The Dude" Dowd, the real life inspiration for the character in the movie The Big Lebowski, as they wax poetic at Book Soup, Los Angeles on December 13th at 7pm.
Phil Cousineau will be at the Book Passage Marin on December 18th, along with a group of readers that includes Joyce Jenkins, Erin Byrne, Georgia Hughes, Linda McFerrin, Mikkel Aaland, and Thanasis Maskalersis.
"This Holy Fool feels fortunate to join you and all the great artists in this book who have entered The Grand Central Station of the Mind and have passed by the tres boring Orient Express on Track #1 to hop on...the Night Express to our Soul, somewhere at the dark end of the station that leads, if perchance we survive, to the light of life—the secret source. No risk/no reward from this nocturnal thrill ride through our subconscious." - Jeff "The Dude" Dowd, in his foreword
In Burning the Midnight Oil, wordwrangler extraordinaire Phil Cousineau has gathered an eclectic and electric collection of soulful poems and prose from great thinkers through the ages. Whether beguiling readers with glorious poetry or consoling them with prayers from fellow restless souls, Cousineau can relieve any insomniac's unease. From St. John of the Cross to Annie Dillard, Beethoven to The Song of Songs, this refreshingly insightful anthology will soothe and inspire all who struggle through the dark of the night.
Notable night owls include Rabandranath Tagore, Mary Oliver, Manley Hopkins, Jorge Borges, William Blake, Antler, James Agee, Erin Byrne, Galileo Galilee, Georgia Hesse, Miles Davis, Beryl Markham, Nikos Kazantzakis, Li Po, Mahatma Gandhi, Bruce Chatwin, Linda McFerrin, Theodore Roethke, Leonardo da Vinci, Sharon Olds, Thomas de Quincey, Edgar Allan Poe, Charles Lindbergh, and many more.