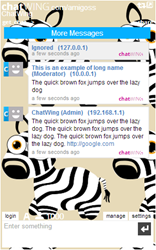 Boston, MA (PRWEB) November 10, 2013
Chatwing Company is improving the quality of its interactive chat software by launching an array of new avatars to choose from. These avatars have the same outline and characteristics with the previous releases, but they have different themes. The avatars will be available to all Chatwing users before November starts.
With the arrival of the new avatars, Chatwing's chat app developers are certain that more users will try out the widget. The developers have also pointed out that the avatars will increase the flexibility of the widget, thus granting more leverage to the registered user. The avatars will give a 'customized' feel, along with the fact that users can modify the appearance of the chatroom anytime.
The avatars have random designs, mixed with different colors and pop culture themes. In one of Chatwing's online studies, the developers have noted that some users are using the avatars for roleplaying chats. With new avatars, users will have more choices and pop culture themes to tackle.
In one of Chatwing's blogs, the developers have also announced that there will be premium avatars. These avatars will have complex designs—a mix of 2D and 3D and probably has larger dimensions. These premium avatars are still in the company's springboard since some necessary changes have to be made.
Chatwing Team will keep its users updated through Facebook and Twitter. Users can expect that these updates are about the chat platform and other coming features. Additionally, the team can share information about widget installation tutorials and blogging tips.
About Chatwing.com
Chatwing.com is a company that has brought innovation to the modern chat widget. Operating for more than five years now, Chatwing and its team of developers have dozens of ideas ready to be introduced to the public. The Chatwing chat app is an easy-to-use online tool that can help web users interact with each other and can also generate continuous traffic. Chatwing will always be a "freemium" application for everyone.