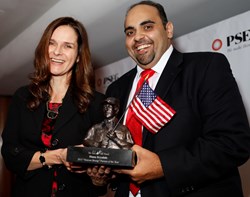 Newark, NJ (PRWEB) November 09, 2013
The GI Go Fund hosted its 5th Annual Veterans Day Gala, where PSEG, Congressman Frank Pallone, State Senator Donald Norcross, as well as over 250 military personnel, veterans, and their loved ones joined at the Newark Club for the premiere Veterans event in New Jersey honoring the people and organizations that have made a significant difference in the lives of veterans and their loved ones.
This year's gala recognized the individuals and organizations that have been deemed as "Veteran Strong", having displayed an unparalleled commitment to ensuring that our veterans our transitioning successfully. Throughout the private and public sectors, there are certain entities that have made it a priority to ensure that our veterans not only return home with honor and pride, but are regarded as some of the most important and valuable members of our society.
"We've spent the last eight years helping veterans find jobs, train for jobs, and go to college," said GI Go Fund Executive Director Jack Fanous, who was also named this month as one of South Jersey Magazine's "Men of the Year" for the work he and his organization has done for veterans on Joint Base McGuire-Dix-Lakehurst and across the country. "Now we are focused on helping veterans get better access to healthcare, better access to quality health services; the quality healthcare that they have fought so hard for. Our veterans deserve the best healthcare, especially our south Jersey veterans, who have to often go across state lines or drive 100 miles to access their VA healthcare. We are going to work twice as hard to help them get what they deserve."
Among the honorees was Diana Drysdale of PSEG, who was named the "Veteran Strong" Person of the Year for her tireless working helping veterans returning home get the services and support they need. Both Drysdale and PSEG have gone above and beyond in their support for military veterans, as they have made employing veterans a top priority for their company for years.
This past year, Ms. Drysdale worked with the GI Go Fund and the Kessler Foundation to develop the "Post 9/11 Disabled Veterans to Work" Project, which took veterans with service-connected disabilities and employed them as at-home customer service agents for PSEG. Dozens of veterans found work at the company helping customers in their greatest time of need, including after Superstorm Sandy, where the veterans handled calls from thousands of New Jerseyans who were without power, talking them through the crisis and working to resolve their problems in a timely manner.
"When Sandy devastated New Jersey a year ago, our communities were better served because of the cohorts of vets in our workforce," said Drysdale. "PSEG is proud of our culture of dedication and commitment to service in our communities and our veterans fit naturally into that culture. The GI Go fund is an important and vital partner in that effort, and they will continue to be an important part in helping veterans find quality jobs and services in our area."
Diana's support for veterans goes beyond the GI Go Fund, as she has hosted fundraisers within the company, raising thousands for great veterans' organizations like the Wounded Warrior Project.
Also honored was NJ State Senator Donald Norcross, who was named "Veteran Strong Legislator of the Year" by the GI Go Fund for his leadership as a member of the Senate's Military and Veterans Affairs Committee. Among his many accomplishments was spearheading the bill that granted local public contract set-aside programs for business enterprises either owned by or currently employing veterans, a great step in helping veterans get the opportunities they deserve to have a successful transition home. In addition, he developed the bill granting veteran students the right to use a service dog while attending school, showing an incredible recognition of the unique needs of our returning military personnel.
In addition, Navy Seal Veteran William Brown and Army Veteran Bryan Adams were awarded the "Post 9/11 Veterans of the Year" for their incredible work as members of the Rutgers Student Veterans Organization. The two veterans worked to improve the school's work with veterans, helping create the veteran-friendly environment necessary for military personnel from across the country to feel welcome at the university. And thanks to their efforts, the school is ranked among the top colleges for military veterans to attend.
Vietnam Veteran John P. Dorrity was named "Veteran of the Year" for his nearly four decades of service to helping veterans and their families get the benefits and services they fought so hard for. Working as the Director of the Ocean County Veterans Service Bureau, Dorrity has served as an unwavering supporter and advocate for our veterans, helping them with their VA claims and appeals, as well as helping them find employment opportunities and financial assistance during times of crisis. Among his financial assistance drives was last fall following the aftermath of Sandy, where he helped thousands of veterans in the area get connected to food, clothing, and dozens of shopping cards from the GI Go Fund and other area providers.
Congressman Frank Pallone, who represents thousands of people whose lives were upended by Sandy was on hand to give opening remarks for the event, as he commemorated the sacrifice of our military men and women and praised the great work being done by Fanous and his organization.
"This organization has done so much for our veterans, from helping them find jobs and going to college to helping them access healthcare and finding a home. I am so proud of the work that this organization has done for our veterans, and I look forward to working more and more with them as they work to help all of our returning veterans," said Pallone.
UA Local 855 of Edison was also honored at the "Veteran Strong" Gala for their tremendous support for military veterans. The local union has been a strong advocate of getting more veterans like Marine Sgt. Joe Pace, a PSE&G employee who is a strong advocate for both veterans and member rights. The union also works to help improve the lives of the military personnel members and their families who they represent.
Sponsors for the event included PSEG, ITT Exelis, Stop & Shop, CPG, and Charity Fundraisers.