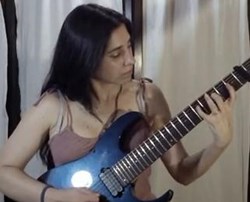 (PRWEB) November 09, 2013
In this lead guitar lesson, now available on YouTube.com, Alejandra Mesliuk teaches how to play a cool 16th note lick based on the C Major Scale on the guitar. Alejandra is playing on a seven string guitar in this video, but you can play this on a six string guitar as well. On a six string guitar you would start the lick on the third fret of the 6th string, G, using the 5th position of the major scale, Mixolydian.
Mixolydian comes from the music theory of the ancient Greeks and was invented in the 7th century B.C. by a poet musician named Sappho.
The lick is made from a mathematical sequence of playing the first four notes of the scale, starting at the lower end. Then simple repeat notes 2, 3, and 4 and then add note number 5. Then repeat notes 3, 4, and 5 and then add note number 6. This same sequence is repeated all the way to last note of the scale on the first string. Then Alejandra reverses the lick and plays it descending starting on the last note of the scale on the first string. Now the sequence is simply played backwards by playing the last note and then descending the next three notes, so a total of four notes. Then you will play starting at the second to last note and descend four notes and then just continue this same sequence until you arrive at the last note on the 6th string. Mesliuk plays the lick at tempo and then slows it down so you can catch it all. This lick is in the style of players such as Paul Gilbert and John Petrucci and sounds great at any tempo. Guitar TAB's are available for this lead guitar lesson at GuitarControl.com.
Alejandra Mesliuk
Alejandra Mesliuk is from Buenos Aires Argentina. She studied jazz guitar harmony and under the method in Temperley Berklee School of Music by Ariel Ferreyrola. She has been an area teacher and clinician for the last 10 years in electric guitar, classical, and musical language. She is currently working on a solo album.
About GuitarControl.com
GuitarControl.com is the leader in modern guitar instruction. It's packed with recourses including articles, video lessons, and the best videos in the business for the beginner to the advanced guitar student taught by the best instructors out there. Weather you are into the blues, rock, jazz, metal, folk, or anything in between, they have you covered.