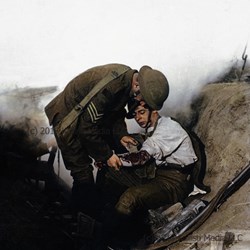 Veteran's Day World War 1 3D photographs that tell an amazing story, narrated by WW 2 veteran and Oscar winner Mickey Rooney
Venice, California (PRWEB) November 11, 2013
Stereoscopic photography was an early form of 3D that reached its zenith during the years preceding and following the war. "Many people are surprised to find that there was 3D photography as far back as WWI. Most people think of it as a recent innovation," says Producer, Nick Reed. "3D Stereoscopic photography actually dates back to the dawn of photography."
"Many of these photos have never been seen before. The depth of image is so powerful that it transports you in a way that no other format ever could into the world of trench warfare and into the lives of soldiers struggling to survive with the enemy dangerously close and watching every move." http://goo.gl/3W7cwj
World War I was truly a world war with over 135 countries supplying men to fight. It was the first industrial war where men were killed with a never seen before efficiency. "When we started the film one of the big problems was that the last WW1 veteran died a few years ago," said Director, Jonathan Kitzen. Looking for more insight into the emotional view of battle from the point of view of the soldier or the "grunt eye view" the director reached out to current veterans then had an epiphany.
Kitzen says, "I had started interviewing modern day Veterans about their experience of war, they sounded identical to the WW1 trench diaries that I had read and by putting the modern soldiers narration over these intimate, powerful imagery, it gave the film a certain profoundness that an actor or anyone who never had the experience could deliver. I think it is the first time a 100 year old battle has been narrated by another generation of soldier."
Soldiers' Stories is told by the young men who now fight again in different battlefields – Iraq, Afghanistan, Somalia, Vietnam – but fight the same battle and share the same experiences of their forefathers four generations prior. WW1 started 100 years ago, and in 100 years the story of epic battle is still very much the same.
The film which will be released in 2014 in multiple formats including 15perf/70mm Imax format print. "It is the first time an adult themed documentary has been brought to the giant screen that is normally reserved for Penguins and Pyramid films," said Kitzen, "this film represents many firsts." SOLDIERS' STORIES shows that there are still novel uses for 3D that have yet to be explored by modern audiences yet which were created 100 years ago. http://goo.gl/OyAe7j