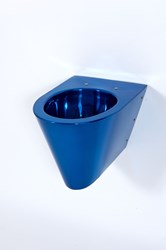 New York, New York (PRWEB) November 10, 2013
Neo-Metro®, designer and manufacturer of made-to-order, contemporary bathroom furnishings, unveils a sampling of its most recent creations for the 2013 Boutique Design New York show. Neo-Metro offers a selection of mixed materials, finishes, and colors, allowing for custom configurations as well as competitive pricing with no sacrifice in lead-time thanks to the company's proven manufacturing capabilities located in Southern California. At this year's BDNY, Neo-Metro surprises industry folks yet again with a showcase of the most compelling custom design projects born from the company's direct-to-client, "nothing is impossible" philosophy—with pieces that go beyond the bathroom.
Stainless Steel Artisans
Neo-Metro starts with the clean and modern aesthetic of stainless steel and creates fixtures specific to the design and necessity of each bathroom or hotel room. A luxury spa might feature a double-wall Neo Tub or Soho Bath made from recycled steel that is germ resistant, insulated to keep water warm without the use of an external heating system, and finished with a brushed polish that matches the tranquility of the space. A popular nightclub, theater, or restaurant can select from a suite of low-flow or dual-flush toilets, urinals and basins that meet the need for durability without sacrifice to style.
Custom Powedercoat Colors and Graphics
Custom graphics, colors, and finishes contribute an exclusive look to each fixture, and provide even more options for experimenting with individual design themes. Neo-Metro has the ability to apply powdercoat to its stainless steel fixtures, color-matched to any hue, at the company's expert facility with no outsourcing. They can even apply custom graphics, making them very unique in their application. Nothing is too obscure; even a Paris-themed room may feature bathroom fixtures with Eiffel Tower graphics on the basins and toilets!
Cast Resin
Designers can choose resin for a sink countertop or bar of any dimension and, for each individual job, Neo-Metro will pour in either 12 standard colors, or color-match to a specific hue or Pantone® shade to create a one-of-a-kind piece. Neo-Metro also incorporates SteriTouch® to its solid-surface material—an antimicrobial additive that reduces the growth of bacteria and mold that causes odors and staining.
Custom Powercoating and Finishes - Park South Hotel, NY and Scores, LA
This past year, the Park South Hotel, located only steps from the Empire State Building in Midtown New York, wanted to carry over the boutique hotel's classically-chic design to a bathroom remodel, and selected Neo-Metro's MK Console as the perfect fit. Always up for a creative challenge, Neo-Metro applied a satin finish to the stainless steel frame before then applying a silver powder coat. The result—over 100 basins with a lustrous finish unique only to this hotel, and an integrated contemporary theme from bath to bed.
Scores Gentlemen's Club in Los Angeles, California selected Neo-Metro's stainless steel toilets, basins, and urinals for their durability and ease in cleaning, but wanted a look more befitting the panache of the club's décor. By using a polishing technique before applying opaque and translucent colors of powdercoat, Neo-Metro was able to create a "candy coat" finish to the fixtures in red, blue, and gold (blue on display at 2013 BDNY). In the past, Neo-Metro has even applied a gold-color powdercoat to its stainless steel Double Wall Tub and Two-Piece Toilet, and then polished them to a high-shine Mira finish to achieve the look of gold or to a Satin finish reminiscent of copper. Also available: Matte or Gloss white and black powdercoat.
Slab™ - CenturyLink Towers
With SLAB, designers begin with a smooth, clean slate and enjoy creating custom one-piece basin and countertop creations with cost-effective choices. The minimalist characteristic of Neo-Metro's Blanco solid-surface white material blends with a vast array of settings. This year, the CenturyLink Tower office skyscraper—the second tallest building in Denver, Colorado—decided they wanted multiple custom-fit consoles specific to each one of the building's 53 floors, including the fitness center. Neo-Metro worked with designers to assess each floor's setting, taking into account specific necessity and individual design, and created special wall-mounted pieces of various sizes with different basin offsets and even some with triple bowls.
Ebb Concept allows adaptability in a variety of residential and hospitality environments. Build as the application sees fit; choose from double to single basin, deep or shallow; from wall-mounted to console; from Satin to Mira finish. The surrounding deck comes in Blanco white solid-surface material or resin, which can be illuminated with LED lighting. On display at this year's BDNY show is a satin-finished Ebb basin with a color-matched rich, royal blue surrounding resin countertop.
About Neo-Metro
Neo-Metro sculpts luxury bath furnishings from 80 percent recycled stainless steel, serving hotels, restaurants, nightclubs, and private residences. As a subsidiary of Morris Group International, Neo-Metro is built with the same innovative engineering quality as Acorn Engineering – the top producer of stainless steel fixtures for a variety of large volume demand markets including industrial, commercial, and healthcare institutions since 1954. Products are made-to-order with minimum outsourcing from its factory located in the United States. Neo-Metro can provide architects and engineers with the most accurate 3D CAD drawings on both stock and custom projects with Autodesk's Revit® Revit (.RVT) files available for direct download, enabling them to build and complete project specification documents quickly and accurately. For more new and exciting Neo-Metro products, contact info(at)neo-metro(dot)com or visit http://www.neo-metro.com.