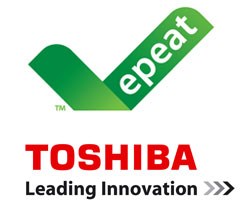 "Toshiba is a company promoting a new era of corporate environmental sensibility, which coincides with the principles EPEAT has established."-- Tom Walter, Director, Aftermarket Sales, Marketing and Operations, Toshiba America Business Solutions, Inc.
Portland, Oregon (PRWEB) November 12, 2013
The Green Electronics Council today announced it has accepted Toshiba's invitation to co-present with the leading manufacturer at its LEAD 2013 conference. Toshiba and the Green Electronics Council will jointly lead an informational discussion about EPEAT and Toshiba's other environmental practices. The two-day event, hosted by Toshiba America Business Solutions, Inc., includes more than one dozen educational sessions about innovative technologies that can improve the operations and performance of businesses, governments and other end users.
During a panel discussion about "The Eco Friendly Office," the Green Electronics Council will provide an overview of the EPEAT green-rating system and Registry of greener electronics. The EPEAT system rates products on a lifecycle basis, addressing the elimination of toxic substances, the use of recycled and recyclable materials, their design for recycling, energy efficiency and packaging, in addition to other criteria. Other LEAD 2013 sessions will address digital signage, intelligent data capture and managed print services, among other topics.
"We commend Toshiba for producing products that exceed customer performance expectations as well as environmental requirements," said Robert Frisbee, CEO of the Green Electronics Council. "Devoting an educational session at LEAD 2013 to highlighting greener office technology is an illustration of Toshiba's global leadership."
Toshiba currently registers devices in two categories of the EPEAT Registry: PCs/Displays and Imaging Equipment. The company accounts for approximately 6.75% of all EPEAT-registered PC/Display devices but represents approximately 11.55% of all Gold-rated devices. PC/Display products rated as Gold in the EPEAT system must meet all 23 required environmental criteria and at least 75% of the 28 optional criteria.
"With the recent launch of the world's first multifunction product (MFP) with erasable toner, Toshiba is a company promoting a new era of corporate environmental sensibility, which coincides with the principles EPEAT has established," said Tom Walter, director of aftermarket sales, marketing and operations for Toshiba America Business Solutions, Inc. "With this philosophy in mind, we are committed to designing and delivering products to help facilitate our customers' environmental stewardship."
Toshiba's annual LEAD conference is an award-winning symposium developed in collaboration with key business partners designed to further attendees' knowledge of managed print, professional services, and digital communication services and solutions. LEAD 2013 is attended by Toshiba sales professionals, independent dealers, end user customers and industry experts to discuss the company's latest products and solutions designed to keep businesses thriving and working smarter.
EPEAT is used as an environmental purchasing requirement by eight national governments, including the United States, and is integrated into hundreds of municipal, educational, healthcare and enterprise IT contracts worldwide. For more than six years, EPEAT ratings have helped companies, governments and consumers compare and purchase greener PCs and monitors, resulting in significant environmental benefits. The EPEAT system expanded in 2013 to include Televisions and Imaging Equipment such as printers, copiers, scanners and multifunction devices.
Since 2006, purchasers choosing EPEAT-registered electronics over products that don't meet the system's criteria have eliminated greenhouse gas emissions equivalent to 11 million U.S. vehicles' annual impact, avoided more than 394,000 metric tons of hazardous waste and reduced solid waste by nearly 167,000 metric tons – equivalent to nearly 86,000 U.S. households' annual waste.
About EPEAT
EPEAT is the definitive global registry for greener electronics. The registry includes the most products from the broadest range of manufacturers and spans the widest array of countries. EPEAT combines strict, comprehensive criteria for design, production, energy use and recycling with ongoing independent verification of manufacturer claims. More than 533 million EPEAT-registered products have been sold worldwide since 2006, resulting in significant environmental benefits. EPEAT was developed through a stakeholder consensus process and is managed by the Green Electronics Council, a non-profit organization based in Portland, Oregon. Learn more at epeat.net.
About Toshiba America Business Solutions, Inc.
Irvine, Calif.-based Toshiba America Business Solutions, Inc., (TABS) is an independent operating company of Toshiba Corporation, the world's eighth-largest electronics/electrical equipment company. TABS is a leading managed document services (MDS) provider with experts that help organizations take control of document security, workflow and print environments. With the award-winning Encompass™ managed print services (MPS) program, e-STUDIO™ line of multifunction printers (MFPs), toner products and retail information/thermal printing systems, TABS is leading the way for businesses to print smarter, work safer and conserve resources. For more information on Toshiba solutions and services available in the United States and Latin America, please visit http://www.business.toshiba.com.