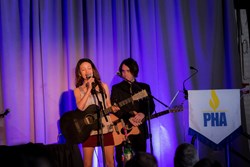 What could be more inspirational to PH patients across the world than Chloe, who is considering a lung transplant, singing, 'Be Brave' while using her oxygen tank?" Noted Gina Parziale, Executive Director of PHA's NY Chapter.
New York, NY (PRWEB) November 10, 2013
The 1st Annual Pulmonary Hypertension Association (PHA) New York City O2 breathe Gala took place on Thursday, November 7th at the Lighthouse at Pier 61 in New York City. Craig Melvin, MSNBC anchor and NBC News correspondent served as Master of Ceremonies for the event, which raised more than $200,000.
The event honored the legacy of Dr. Robyn Barst, a pioneer in the field of pulmonary hypertension (PH) who passed earlier this year. We honored the legacy of Dr. Robyn Barst in three ways," said Gina Parziale, Executive Director of PHA's New York Tri-State Chapter. "Through reflections from her patients, colleagues and husband, in celebration of the hope and progress her efforts created through the performances of two women who have PH, and by raising funds to continue the research that will bring us to her goal of curing pulmonary hypertension."
Inspiring Performance by Two Pulmonary Hypertension Patients
A highlight of the evening was a performance by 2011 AVON National and International Songwriting Competition Winner, singer/songwriter Chloe Temtchine. Earlier this year, Ms. Temtchine's album, produced by American Grammy nominee, Greg Camp, was nearing completion when she was rushed to the emergency room due to congestive right-heart failure and diagnosed with a life-threatening pulmonary disease, Pulmonary Veno Occlusive Disease (PVOD.) PVOD is a condition which causes narrowing of the pulmonary veins and venules by fibrous tissue causing PH. Currently, lung transplantation is the only therapeutic option capable of significantly prolonging and improving the lives of patients with PH caused by PVOD.
Mere months after her diagnosis, Ms. Temtchine performed three self-written songs, "Little Lies" "Meaning of Time" and "Be Brave" with her oxygen tank, which she has affectionately named "Steve Martin." "Steve" wore a tie for the occasion.
"Ms. Temtchine's performance, particularly of her self-written song 'Be Brave,' while using her oxygen tank will be an inspirational message for PH patients across the world.
Jennifer Lombardi was diagnosed with stage 4 pulmonary hypertension after collapsing on the side of the Villanova basketball court where she was captain and choreographer of the dance team during her Junior year. While she must continually wear a pump, which delivers medicine to her intravenously, Jennifer performed a salsa dance with her partner, Alfred Pena.
Honoring the Legacy of a Pioneer in the Field
For two-and-a-half decades, Dr. Robyn Barst established herself as a leader in the field by providing state of the art medical care for children and adults with PH, founding the New York-Presbyterian Pulmonary Hypertension Center, conducting groundbreaking research in the field, mentoring numerous clinicians, and serving in PHA leadership through the Board of Trustees and Scientific Leadership Council.
"Robyn would have wanted people not to mourn her but continue her fight against PH. That's why supporting PHA's research and education to end this terrible disease is so important," shared Dr. Sam Barst, Dr. Robyn Barst's husband.
A special auction held at the event raised more than $34,000 for the Robyn J. Barst Pediatric Research and Mentoring Fund.
About Pulmonary Hypertension
Pulmonary hypertension is high blood pressure in the arteries of the lungs that can lead to heart failure. There is no cure. In 1985 patients had a 50% chance of surviving 2.8 years past date of diagnosis but, thanks to new treatments, prognosis is improving.
About the Pulmonary Hypertension Association
PHA is the country's leading organization connecting pulmonary hypertension patients, families, and medical professionals. Its mission is to find ways to prevent and cure pulmonary hypertension and provide hope for the community through support, education, research, advocacy and awareness. PHA provides free access to information on its website about pulmonary hypertension and facilitates over 240 support groups around the nation, helping many of the estimated 20,000 - 30,000 diagnosed patients in the U.S. PHA is proud to have met the BBB Wise Giving Alliance Standards for Charity Accountability. Additionally, for ten consecutive years, PHA has received the highest possible rating-4 stars-for fiscal accountability and transparency from Charity Navigator, placing PHA in the top 1% of all rated charities. 88.5% of funds raised by PHA go directly to research and our support, education, advocacy and awareness efforts.