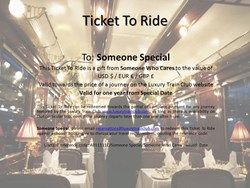 Ticket to Ride vouchers are perfect gifts; easy to buy & give, sure to be appreciated. Luxury train travel is as good as it sounds, generally followed by 'wow'!
(PRWEB UK) 23 November 2013
The Luxury Train Club appreciates it can be difficult to offer interesting presents to someone who has everything; the Club launches the Christmas and holidays version of Ticket To Ride gift vouchers.
Ticket To Ride gift vouchers are available for purchase by Club members. They can be used towards travel on any luxury train journey listed on the Club website. Ticket To Ride gift vouchers allow recipients to choose the rail tour or holiday that best suits them.
Luxury Train Club membership is simple and free, just subscribe to the Club newsletter.
A Ticket To Ride can be worth any amount from minimum USD $250 / GBP £150 / EUR €185, in any one of those currencies.
Ticket To Ride travel vouchers can be further customised with background photos, logos or other graphics at no extra charge, as long as the required artwork or files are provided.
Any Club discount or offer still applies if the Ticket To Ride is redeemed in full or part payment of a qualifying train journey. This will include the regular Member discount which is applied to every listed train journey, as well as the thank-you gift for booking and any relevant train promotion.
Ticket To Ride vouchers can only be redeemed through the Luxury Train Club. Each Ticket To Ride is valid for one year from date of issue and can be redeemed towards the partial or complete payment for any journey featured on the Luxury Train Club website, as long as there is availability on that particular trip, even if the booked journey starts later than one year after issue. More than one voucher can be used to pay for any one journey. Vouchers cannot be exchanged for cash in any form.
Some reasons for luxury train journeys include milestone wedding anniversaries or birthdays, multi-generational travel and honeymoons (or second honeymoons). Tickets To Ride are an interesting addition to a wedding list, and are also a meaningful way to show appreciation or as an incentive for the coming year.
The Luxury Train Club features more than 30 luxury trains around the world, on every continent that has railways. Current favourites include Al Andalus (Spain), Eastern & Oriental Express (South East Asia), British Pullman (UK), Golden Eagle (Russia) and Tren Crucero (Ecuador).
Simon Pielow, Concierge at the Luxury Train Club,"Ticket to Ride gift vouchers are perfect for those difficult present decisions; easy to buy and give, and yet sure to be appreciated. Luxury train travel is as good as it sounds, generally followed by 'wow'!"
ENDS
About the Luxury Train Club:
Contact: Simon Pielow, http://www.luxurytrainclub.com, info(at)luxurytrainclub(dot)com, +44 (0)1249 890 205
The Club gives the public rates on all listed trains, and then reduces them by applying a 'Member Special' 2.5% discount on every journey, as well as passing on any available offer from the train. The Club also shows appreciation for every booking with a thank-you gift.
The Club website has details of offers from trains around the world, including Early Bird Booking Offers, some specifically for members.
Member Benefits
Discounts:

2.5% discount off the price of any journey on the Club website
Discounts are applied on final or full payment and are per suite.
Club discounts are in addition to offers from the train companies.
Thank You Gift – the Club values every booking made by a member, sending a thank-you gift, which varies from time to time, to the leading passenger for every reservation. Current gifts include one of the following:

Gift from Osprey London, something from their range of small leather goods;
Gift from Noble Isles, a travel item from their range of bath and body products.