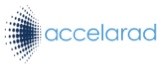 Major success with using seemyradiology.com is reflected in providers being able to accomplish more efficient, expedited care because they get images more quickly.
Atlanta (PRWEB) November 18, 2013
Accelarad, the nation's leading cloud-based medical image sharing solution, was named the top-ranked image exchange vendor in KLAS Research's recent report, Image Exchange 2013: A Close Look at Accelarad, November 12, 2013. As the nation's largest and most experienced cloud-based medical image exchange platform, Accelarad earned an 89.6 on KLAS' independent evaluation. Click here to download the full report.
KLAS evaluated Accelarad's platform, seemyradiology.com, based on security, workflow, scalability, new-sender setup and viewers. While Accelarad received between 4.2 and 4.8 out of five in each category, the report also revealed that 30 percent of Accelarad's customers reported better image access and throughput of patient care. Moreover,100 percent of customers said Accelarad's product was a part of their long-term plans. Some healthcare providers expressed excitement around Accelarad's mobile app, which allows clinical personnel to use iPhones and iPads to view, share, and request images and reports off-site. KLAS' report found that 50 percent of Accelarad's customers currently use its mobile app with another nine percent planning to in the future.
"Major success with using seemyradiology.com is reflected in providers being able to accomplish more efficient, expedited care because they get images more quickly," said Brady Heiner, Report Author Research Director at KLAS in the report Image Exchange 2013. "Providers noted that sending images via the cloud with seemyradiology.com platform is easier than burning CDs and the facilities receiving the images like the process better."
"We are tremendously proud to be recognized as the top-ranked medical image sharing provider in this report by KLAS - an organization that is widely regarded as a health IT industry authority," said Willie Tillery, CEO of Accelarad. "Currently, Accelarad's network covers more than 1,650 facilities and hosts the exchange of over 400 million medical images annually. The KLAS ranking affirms our marketplace penetration and the customer satisfaction that we enjoy from coast to coast. We look forward to continuing to connect America through a secure, cloud-based network that improves patient care and mitigates rising health costs."
###
About KLAS
KLAS is a research firm specializing in monitoring and reporting the performance of healthcare vendors. KLAS' mission is to improve delivery of healthcare, by independently measuring vendor performance for the benefit of healthcare provider partners, consultants, investors, and vendors by collecting accurate, honest and impartial provider experiences. Working together with executives from over 4500 hospitals and over 2500 clinics, KLAS delivers timely reports, trends, and statistics, which provide a solid overview of vendor performance in the industry. KLAS measures performance of software, professional services, medical equipment, and infrastructure vendors. For more information, go to http://www.KLASresearch.com, email marketing(at)KLASresearch(dot)com, or call 1-800-920-4109 to speak with a KLAS representative. Follow KLAS on Twitter at http://www.twitter.com/KLASresearch.
About Accelarad
Founded in 1999, Atlanta-based Accelarad, creators of SeeMyRadiology.com, makes it simple for healthcare organizations, physicians and patients to securely view, manage and share medical images and documents online. Intuitive and in tune with healthcare workflows, Accelarad's scalable platform eliminates the costs, redundancies and administrative headaches of outmoded image transfer technology. The company's robust, cloud-based software as a service (SaaS) platform empowers collaboration by allowing users to access and share medical images and documents from Internet-connected computers or mobile devices at any time, from anywhere. Accelarad's true multi-tenant architecture supports today's imaging needs, while also strategically positioning healthcare organizations to address the ongoing challenges of patient-centered, coordinated care. For more information, visit http://www.accelarad.com and follow @Accelarad on Twitter.