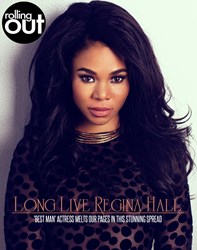 In moments like this, you realize that fame is a blessing.
Atlanta, GA (PRWEB) November 15, 2013
With the impending release of The Best Man Holiday — arguably one of the most highly anticipated movies with a predominately black cast in recent memory — Hall has been given another opportunity to further solidify her claim as one of Hollywood's most utilized, yet underrated stars.
A modest Hall is not interested in popularity at all.
"In moments like this, you realize that fame is a blessing," she tells celebrity journalist DeWayne Rogers. "But to be honest, I don't think about it all that much. I don't even know that I think of myself as famous. In the end, what does fame really mean? You have to get closer to God and to what spirituality means to you. In the end, it's good to work."
Visit rollingout.com to read the interview in its entirety. Be sure to check out the exclusive photo shoot and video footage with celebrity photographer DeWayne Rogers.
About rolling out Magazine:
Rolling out, the nation's largest free urban weekly, is a digital and print magazine that focuses on the black experience in response to entertainment, politics, fashion, culture, sports and lifestyle points of interest. Headquartered in Atlanta, rolling out is positioned as the voice for the African American experience, using its newspaper as a platform in the marketplace to express urgency for education reform, and to document entrepreneurial endeavors and other relevant issues in the Diaspora. For information on rolling out, please log on to rollingout.com.