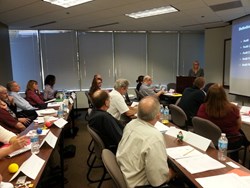 "Each class is just a bit different due to past experiences and different skill sets brought in by the participants"
Phoenix, Arizona (PRWEB) November 26, 2013
Mentair Group conducted an ISSP Auditor Training course in Phoenix recently. The course will be one of the required courses for those individuals following the "Safety Professional Career Track". The ISSP recently announced their plans for the program which will provide a road-map for aspiring safety professionals and also help the promotion of new concepts for safety management for all industries.
Ms. Sharon Grey developed the curriculum and served as the lead instructor for this class. "We have been pleased with the reviews from our class participants from this class and previous classes" Nathan Predoehl co-founder of the Mentair Group commented. "Each class is just a bit different due to past experiences and different skill sets brought in by the participants" he added. The basis of the class remains the same but we also make changes based on the input of our participants. This is part of D. Smith's vision for having a global voice for safety professionals that crosses industry lines. With the addition of the lessons learned from many industries, the class will only get better as we go forward.
Mesa Airlines sponsored the event which was held at their headquarters located in Phoenix. Other companies represented at this class included Boeing, Alaska Airlines, Flight Options, R. Dixon Speas Associates Inc, SBC Global Consulting, White Wolf Consulting and Chameleon Inc.
About The International Society of Safety Professionals
The International Society of Safety Professionals (ISSP) is a Non-Profit Organization dedicated to the advancement and promotion for the profession of Safety Management. They are registered in the US as a 501, C, 6 corp. The purpose of the ISSP is to promote and advance the profession of Safety Management, provide safety management education opportunities and create a public registry of qualified safety professionals. Their vision includes becoming a global voice of safety management professionals and help validate the profession of safety management.
About the Mentair Group
Mentair Group is an International aviation auditing, training and consulting company with a diverse background in quality and safety management systems. They have assembled a team of experts, each with a solid background in aviation safety and quality management. The coalescent strength of the team is their diverse backgrounds covering airline, charter, corporate, and maintenance operations. This knowledge base includes domestic and international operations experience with both fixed and rotorwing aircraft. It also includes auditing and auditor training.
Contact Information:
Nathan Predoehl
Managing Partner
npredoehl(at)mentair(dot)com
10958 Marcy Plaza
Omaha, NE 68154-3371
Office: 402.403.9SMS (9767)
Mobile: 402.618.5548
http://www.mentair.com
Sharon E. Grey
Managing Partner
sgrey(at)mentair(dot)com
Phoenix, Arizona
Office: 480.788.9SMS (9767)
Mobile: 480-678-0739
http://www.mentair.com