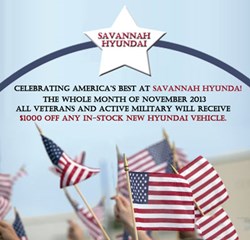 Veterans and their families have always been a priority at Savannah Hyundai. Mark Medinger, Savannah Hyundai Owner
Savannah, Georgia (PRWEB) November 11, 2013
Savannah Hyundai wants to say thank you to all the brave men and women who have sacrificed so much for our country by doubling Hyundai's Military Rebate for the month of November. All veterans and active military will receive $1000 off any in-stock new Hyundai vehicle.
"We want to make it a priority to provide veterans with rebates on new vehicles as a way to acknowledge their dedication to our country," says Mark Medinger, owner of Savannah Hyundai. "We encourage all veterans to stop in and see the great cars we have available to them at a great discount."
The Hyundai military rebate is available to Veterans, Active Military, Retired Military, Air Force, Army, Coast Guard, Marine Corps, Navy, National Guard, Reserves and their spouses. The program similarly applies to spouses of military personnel.
In addition to being the best automotive rebate program in the industry, U.S. Veterans Magazine ranked Hyundai Motor America among the nation's top veteran-friendly companies after evaluating employment, business and supplier opportunities for returning U.S. veterans. Hyundai Motor America was the only automotive manufacturer to receive this honor.
Last year, Hyundai Motor America paid more than $24 million in rebates to U.S. military and family members, making Hyundai one of the most veteran-friendly car companies in America. This year, U.S. military personnel and veterans account for a remarkable 1 in 10 Hyundai vehicle sales.
Savannah Hyundai suggests that interested Veterans qualify by first inquiring with Savannah Hyundai's Internet Department prior to visiting the dealership by calling (912-509-0933).
Savannah Hyundai is located at 7011 Abercorn Street in Savannah.