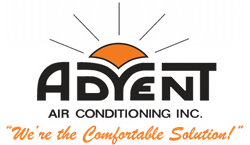 Advent Air Conditioning, Inc. wants to help you learn about energy savings, and show you how much you can save on an annual basis.
Lewisville, TX (PRWEB) December 16, 2013
The winter months and cold temperatures not only drop the mercury in the thermometer, they also drop the funds in your bank account, due to rising energy and heating costs. However, there are ways to drastically reduce energy costs in the chilly months without lowering the heat and making a home uncomfortably cold.
Energy savings plans are more important today, than ever before. Rising overall energy costs necessitate budgeting and conserving energy in order to offset the rising costs. Advent Air Conditioning, Inc. – a Texas HVAC company – is striving to help fellow Texans offset these costs with a myriad of energy savings rebates, energy savings plans, and energy saving maintenance and tune-ups of new and existing air conditioning and heating units.
Firstly - with the energy crisis being not only a national issue, but a global issue – there are many government rebates, tax credits, and subsidies that are offered in the United States to help with the overall energy concerns, and to spread a comprehensive awareness of consumer's energy costs. Advent Air Conditioning is proactive in their work to attain the maximum rebates and tax breaks.
Secondly, Advent Air Conditioning offers five different energy savings plans that not only cover routine maintenance on an HVAC system throughout the year, but also continually fine-tunes the energy that is spent on heating and cooling a home. This process both extends the life of a home HVAC system and keeps the entire system running efficiently, with energy savings being the overall goal.
Everyone is looking for ways to trim up their budgets and save a little extra money every month. Using these exclusive plans and energy saving options from Advent can save the average family over $1,000 per year in electricity and utilities, not including additional rebates and savings that the Advent Air Conditioning professionals can qualify you for. Advent Air Conditioning, Inc. has a homeowner's budget and affordability in-mind when they perform an energy audit, and they are there to help navigate the sometimes-confusing world of energy rebates and savings.
Advent Air Conditioning, Inc. wants to help consumers learn about energy savings, and show how much savings can be had on an annual basis. Put a stop to wasting money on excessive energy bills.