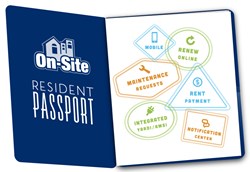 From prospect to applicant to resident and beyond, our users can turn to On-Site's self-service platform to optimize and grow their business well after move-in day.
Campbell, CA (PRWEB) November 11, 2013
On-Site.com today announced Resident Passport, a new resident concierge platform for the apartment industry that makes rental living painless by allowing renters to quickly and easily renew a lease, pay rent and submit a maintenance request online. The addition of Resident Passport to On-Site's popular online leasing platform bolsters the company's position as the apartment industry's top software provider.
"We're going beyond our successful listing to lease paradigm," said On-Site Director of Products Zeke Kirkpatrick. "With Resident Passport we now support property management operations through every stage of the business lifecycle. From prospect to applicant to resident and beyond, our users can turn to On-Site's self-service platform to optimize and grow their business well after move-in day."
Resident Passport helps property managers say "welcome home" and puts an end to all the paper pushing involved with operating rentals, delivering online lease renewal offers that staff can manage from an easy to use dashboard. Renters can then view and accept offers from within Resident Passport and sign on any device using E-Sign electronic signatures.
Thanks to online credit card and e-check rent payments, Resident Passport takes the stress out of rent week. Funds are deposited directly into property bank accounts, typically within one business day. Gone are the mysterious processing delays and nickel-and-dime fees found with most rent payment processors.
Resident Passport brings new levels of efficiency to the work order process by allowing residents to submit and track maintenance requests at their convenience.
On-Site also took into account the growing popularity of mobile devices and engineered Resident Passport with responsive design. This approach allows the platform to deliver a fast, friendly and intuitive experience to any of the 6,400 different types of devices and screen sizes in the world, eliminating the need for special mobile sites or dedicated apps.
Resident Passport grew out of On-Site's award winning community websites, which clients favor for their flexibility, ease-of-use and affordability. With the increasing popularity of prospect-centric leasing and the growing demand among renters for one stop shopping, On-Site's clients began asking for an integrated rent payment solution.
To meet customer demand, On-Site initially integrated with a number of third-party providers.
"The third-party interface options looked like an afterthought," said Kirkpatrick. "They were clunky and simply did not meet the standard of design that On Site was looking to uphold."
In response, On-Site created its own integrated rent payment tool, ultimately building it out into a full-featured resident concierge platform. And as is the case with all of On-Site's solutions, the technology is tightly integrated with the major legacy property management software providers, like Yardi, AMSI and RealPage, for painless interoperability.
On the naming of the new platform: "Just don't call it a resident portal," said Kirkpatrick. "Portals are for science fiction movies. We picked a new name because too many property managers have been burned by products that are more fiction than reality."
Learn more about Resident Passport at http://www.on-site.com/passport.
About On-Site
Founded in 1999 with technology and service 100% based in the U.S., On-Site is bringing the apartment industry up-to-speed with what today's consumer expects from the renting experience: modern technology and a focus on usability. On-Site's end-to-end platform covers everything from community marketing and renter qualification to lease contract generation with e-signatures and online storage. Plus integrated communication hubs to drive resident retention after move-in. The result is a simplified rental experience that leads to greater customer satisfaction and translates directly to the positive side of the balance sheet. For more information about On Site's online leasing solutions, visit http://www.on-site.com or contact one of On-Site's online leasing experts at (855) 667-6500.