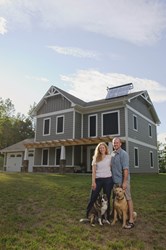 Roanoke, Va. (PRWEB) November 12, 2013
Passive House builder Structures Design/Build, of Roanoke, Va., has been named a finalist in the GreenBuilder Home of the Year Award.
The selected entry is the Specht House, a new 1800-square-foot home in Bedford, Va., which will be featured in the December 2013 issue of GreenBuilder magazine. Built in a vernacular style with traditional architectural touches, the home fits perfectly into the surrounding Virginia countryside. But it is also a certified Passive House, which means it meets the highest contemporary standard for energy efficiency, comfort, and sustainability.
By design, the house uses 70% less energy than conventional code-conforming new construction. This is not just a marketing claim: After its first year of operation, the home used an average of $1.50 per day in total energy – within 1% of predicted usage.
Surprisingly, this energy savings came at a modest initial investment (for proper air sealing and extra insulation), which was easily financed as part of the mortgage. Given the rising cost of energy, the improvements will pay for themselves many times over the life of the structure.
ABOUT STRUCTURES
Structures Design/Build, LLC, founded in 1999 by Adam Cohen and Steven Strauss, specializes in high-performance commercial and residential construction. Adam Cohen is a certified Passive House consultant in both North America and Europe. To date, Structures has completed three certified Passive House residences and four commercial Passive House buildings, including a school, a cultural center, a dental office, and a college dormitory.
"Passive House technology delivers proven, verifiable results, and it's gratifying that local businesses and homeowners have demonstrated a strong interest in saving energy, reducing their carbon footprint, and ultimately saving a lot of money," says Cohen. "Passive House has been practiced in Europe for over 20 years, and it now has a home right here in Roanoke. Passive House is here to stay."
"There is no reason for anyone to build a conventional building anymore," says Strauss. "At Structures, we have developed and refined our delivery methods so we can now design and build a Passive House structure at cost parity with standard construction."
Contact Structures for more information, or to obtain images of the Specht House.