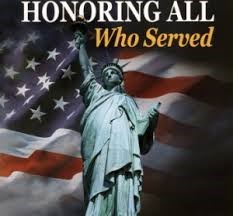 The highest appreciation is not to utter words, but to live by them.
Roseland, New Jersey (PRWEB) November 11, 2013
Veterans Day is an important day as it is set aside to honor those that serve in the military at home and abroad so that we may live safe and free. As John Fitzgerald Kennedy stated "as we express our gratitude, we must never forget that the highest appreciation is not to utter words, but to live by them." Another quote from Cynthia Ozick reminds us that "we often take for granted the very things that most deserve our gratitude."
There are many ways to thank veterans and their families. Most Americans celebrate them with festive parades around the country on Veterans Day. Annin Flagmakers is honored to be walking with the Wounded Warrior Project and the Voices of September 11 in this years NYC Veterans Day Parade. Together they will carry a 30' x 60' American Flag in honor of all those who served. " We have been making the American Flag since 1847, but it is days like this that remind us how fortunate we are to make the symbol of our country and honored to participate with organizations like the Wounded Warrior Project to say thanks to our vets, notes Bob Caggiano, V. P. of Sales at Annin.
Veterans and their families need support during their service and after they return home, states Mary Repke, V.P. of Marketing at Annin. Today, more than ever, it is important to support Veterans as so many come home from service and have difficulty finding jobs, need help healing and receiving valuable education that will help them acclimate into civilian life. Says Repke, "we were honored to be asked to produce the Honor and Remember Flag for the organization of the same name and encourage everyone to view their website and help their cause."
Annin Flagmakers, a family owned business since 1847 headquartered in Roseland, New Jersey, is the oldest and largest flagmaker in the United States. Annin Flagmakers distributes its products through Specialty Flag Retailers, mass market retailers and organizations such as the VFW and the American Legion.