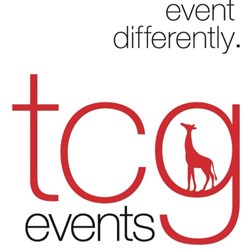 As an early holiday present, Chief Experience Officer Cassie Brown and her team of Event Architects are sharing the Top 5 Words You Should Hear from Your Event Planner.
Charlotte, NC (PRWEB) November 11, 2013
Premier Charlotte-based events company, TCG Events, renowned for exceeding client expectations at every turn and providing a guest-centric experience that delivers lasting impact, is ready to help North Carolina businesses make the most of their holiday events with the company's unique EventSmarterTM approach.
As an early holiday present, Chief Experience Officer Cassie Brown and her team of Event Architects are sharing the Top 5 Words You Should Hear from Your Event Planner:
1. Vision: The right event planner asks you the right questions to create an event that accomplishes your company's goals – so that it's not just a generic "pretty" holiday party. For example, TCG Events needs to know: What is your goal for this event? Who is your audience – employees only, or are you inviting clients and prospects as well? If this is an annual occasion, what did you do last year – what worked and what didn't?
2. Timing: Your event planner should talk with you about the ideal timing for your holiday party. That might be January – traditionally a more relaxed time for employees. This is especially valuable if you're hoping this event will encourage team bonding; your employees are likely to be less distracted, more able to focus on one another and the company. It's also a cost-cutting move, as many vendors have more pricing flexibility in January. Another option: a lunch or weekday party, instead of weekends or evenings, so that more of your invitees might be able to join in the festivities.
3. Location: Have you traditionally rented an outside venue for your company's holiday party? Consider holding the event at the CEO's home. A home can provide a very intimate and welcoming setting and can demonstrate team commitment from the company's leadership. Review the home options with an event planner; collaborate on your vision for the event and rely on their expertise to inform you of what's possible.
4. Food (specifically, presentation and selections): No one wants to be stuck at a table all night with eight people they may or may not like. Your event planner should offer some creative options, including family-style serving, to encourage conversation. Food that's an "experience" is a terrific way to make this year's event stand out – TCG Events has created experiences ranging from make-your-own-dessert stations to champagne served by an upside-down aerialist. The end result: even more opportunities for networking and a higher overall energy level for the event.
5. Last but not least – Music! Are Your Licenses in Place? Music played publicly is required to have permission from the songwriters/composers. Instead of having to call Mariah Carey every time "All I Want for Christmas is You" is played, BMI and ASCAP are music performing right organizations that manage the process and distribute royalties. While it takes no more than ten minutes to fill out the required forms, it is an item overlooked by many companies holding events – at the holidays or any time of year - and the consequences are significant. For example, the ASCAP fine is a minimum of $750 per song plus attorney fees and court costs.
Not hearing these words and other tidings of joy from an expert event planner? Reach out to the holiday elves at TCG Events at 704.376.1943 or drop a line to email(at)eventwithtcg(dot)com, and be sure to visit http://www.eventwithtcg.com/.
About TCG Events
With Chief Experience Officer Cassie Brown, CSEP, at the helm, TCG Events specializes in planning and executing corporate events that drive business for their clients. No stone is left unturned by the company's proprietary EventSmarter™ approach, which includes a detailed pre-event walk-through that covers every facet from the perspective of the attendee, to ensure absolute success. TCG Events transforms the ordinary to the extraordinary, creating innovative and energized avenues for socializing, creativity, and successful business networking and development. And makes those who didn't attend, wish they had.
TCG produces and manages events for Fortune 500 companies, dot coms, professional sports teams, healthcare organizations, national associations, foundations, and notable figures, such as Wells Fargo, Pepsi Cola, IKEA, Carolinas HealthCare Foundation, LendingTree, Red Ventures.
To learn more about how to boost your event ROI and "EventDifferently. EventSmarter. Event with TCG Events," visit http://www.eventwithtcg.com/. Follow TCG Events on Facebook, LinkedIn and on Twitter @TCGEvents.