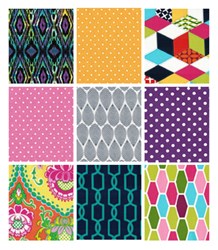 Stylish, chic, and eye-catching. - Tiffany Lewis
Seattle, WA (PRWEB) November 11, 2013
Today, Designer Greek, a leading Greek clothing company, announced the arrival of Fall Fun, a collection of 10 new printed fabrics for their Greek and English sewn-on lettered apparel. With 10 new choices, customers have the opportunity to design fraternity clothing and sorority clothing, while incorporating a customized look that can bring meaning and personality to the standard sewn-on sorority letter shirt, fraternity sweatshirt, sorority tote bag, or greek jacket.
Designer Greek customers design their greek letter shirts, sorority sweatshirts, and fraternity sweatshirts just like they always have, but now have the opportunity to select from 10 additional patterns within Designer Greek's Letter Design Shop. The newest fabric collection includes dots, geometric designs, floral and natural inspirations.
Azalea Dots, Mango Dots, Scarlet Dots, and Purple and White Dots come in various sized white dots on their respective colored backgrounds. Cubix, Hex, and Trellis, all geometric patterns, shine with color, detail, and style. Leaf, a black and white repeating pattern, and Oasis, an ikak inspired print, are sure to turn heads. And lastly, Lavinia, the only floral pattern in the collection, stands out with a large flower design in vivid colors such as Pink, Yellow, Green, and Orange.
"Customers love the idea that their Greek apparel from DesignerGreek is unique, often meaningful, and simply stunning," says Stefany Bernard of Designer Greek. "We are so excited to introduce Fall Fun, and believe this fabric collection will bring excitement to the Greek community. Come try-on our newest fabrics in the Letter Design Shop!"
About Designer Greek: Designer Greek (http://www.designergreek.com) has been serving Fraternities and Sororities nationwide since 2001 with high quality custom Greek apparel. Specializing in stitch Greek letters, sewn-on applique English letters, and embroidery designs, they offer hundreds of clothing and fabric options, resulting in beautifully sewn sorority clothing and fraternity clothing.