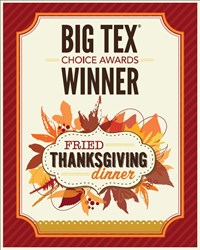 Enjoy the award winning Fried Thanksgiving Dinner dish from the Texas State Fair for Thanksgiving this year!
(PRWEB) November 12, 2013
Residents of the Dallas-Fort Worth Metroplex area will have the opportunity to enjoy a fried Thanksgiving dinner this year. The launch of the site, FriedThanksgiving.com, will provide locals with the chance to take home the memorable fare that received top honors for creativity at this year's Texas State Fair. Created by Justin Martinez, the delicious all-in-one meal features all the flavors that make the Thanksgiving holiday memorable.
Martinez is no stranger to success, having previously earned the prestigious Big Tex Choice Award for Most Creative with his Deep-Fried Bubble Gum in 2011. His fascination with frying and his success in 2011 launched him on his search for the next winning dish. After thinking of his next effort for the state fair, he began to experiment and refine his recipe so that he would have a winning result.
This year's Fried Thanksgiving Dinner entry was inspired during a family Thanksgiving meal as Martinez observed the various elements that occupied his dinner plate. His creative and culinary thoughts went to work as he began to experiment, ultimately leading to the creation of the delicious balls of stuffing and diced turkey. Dipped in southern creamed corn, the balls are then rolled in corn meal before being fried. They are served piping hot with sides of brown giblet gravy and zesty orange cranberry sauce. All the comforts and memories of Thanksgiving are captured in the burst of festive flavors. This flavorful combination was extremely well received at the 2013 State Fair of Texas, and all reviews were excellent. Everyone indicated that it actually did contain all of the flavors of a typical Thanksgiving dinner.
With the launch of FriedThanksgiving.com, customers will be able to conveniently order the acclaimed favorite online for their holiday festivities. The turkey balls will be available in sets of a dozen for $29.99, along with the option to get extra cranberry sauce. Customers will be able to pick up their orders from one of three pickup locations in the DFW Metroplex. Pickup points include Ron's Corner Tavern in Bedford, Delta Charlie's Bar & Grill in Dallas, and The Hub Sports Bar & Grill in Addison.
Fried Thanksgiving Dinner makes an outstanding choice for a simple but flavorful holiday meal for those with a full slate of activities during the long Thanksgiving weekend. Those not wanting to fuss with a full turkey meal will find that this easy-to-prepare alternative provides a delicious option without compromising on flavor. The fare is an excellent choice for an office celebration, for a readily available delicious meal, or for taking to a large family gathering. Whether used as a side or as the main dish, fried Thanksgiving portions will provide holiday guests with a unique and memorable experience. Orders can be placed online at FriedThanksgiving.com beginning November 11, 2013.