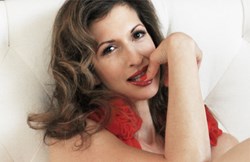 We have so many different, beautiful women, and so many different characters. We have a transgender woman playing a transgender woman. I'm a little awestruck about it all.
(PRWEB) November 14, 2013
Alysia Reiner is already a very experienced and established feature film and television actress, and with the success of 'Orange Is the New Black', her stock has never been higher.
Reiner chatted with TVRage.com's Anthony Marcusa about 'Orange Is the New Black,' the strange experience of launching an entire season all at once, and what to expect from Season 2.
Here's an excerpt from the interview:
"TVRage: How did you watch the first season?
Reiner: We had a viewing party at my house, bunch of the cast came over, and we got to episode six or seven. We stayed up until 2 o'clock in the morning, and people slept over and we had a pajama party. Then for episodes 8-12, I took my time, I really wanted to savor it. I didn't want to be over.
TVRage: So not only are you on this 13-hour movie, a show that doesn't have a pilot and guaranteed a whole season, but you get renewed for a second even before the first show is available.
Reiner: It was Christmas on top of Christmas…Christmas in July. It has been a really amazing experience, and it's very rare in our profession. We feel so, so lucky. We're just having so much fun."
'Orange Is the New Black' returns on Netflix in 2014.